Someone claiming to be the Syrian Electronic Army has spammed thousands of Tumblr users with a warning.
The SEA is planning some sort of "social media blackout" for October 1. Thing is, they might not really be the SEA at all.
The real SEA is, of course, that group of young hackers loyal to Syrian President Bashar al-Assad. In recent months they've gone from mere pests who attack western news outlets' Twitter accounts to something a little more threatening: They recently took over the New York Times' domain name, for example, and have prompted an FBI investigation.
But in a host of ways, this new message is different from most characteristics of the SEA's well-established routine. For one thing, the SEA already has a YouTube channel; this one's new. The SEA has been coy about their identities, this video actually shows a person's face—or at least much of one; he sports a hood that evokes a too-old kid wearing a Sith Lord Halloween costume.
By the way: That song, we're pretty sure, comes from Imperativa Records, which makes commercial compositions that sound like they belong in movie trailers.
But even stranger was how it got so many people to see the video since it was uploaded Thursday: by spamming unknown legions of Tumblr users.
The SEA is believed to have ignored Tumblr until now. But a number of users, including the Daily Dot's Aja Romano, have received a link to the video as a submitted post. There's no way to judge the extent of the spamming, but it's been viewed more than 15,000 times in its 24 hours of existence, isn't exactly shareable, and the comments are largely filled with people saying they came from Tumblr and/or are confused by the speaker's accent.
Furthering how out of character this is, the SEA, which is often at odds with Anonymous, explicitly apes Anonymous language in the video, saying "you should expect us" and writing: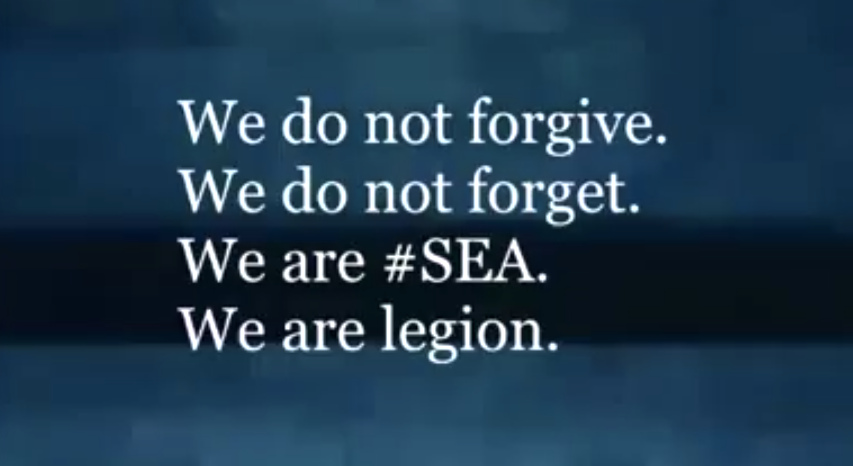 An SEA representative who has previously spoken with the Daily Dot didn't immediately respond to a request to clarify what would happen on October 1st.
However, Helmi Noman, a research affiliate at Citizen Lab and an expert on the SEA, cast serious doubts on the authenticity of the video. 
"They don't look like they are associated with the SEA. Probably just free riders," he told the Daily Dot. "Their website is hosted in the US, which the SEA will unlikely do."
And, perhaps most damning, "The speaker's accent is not that of an Arab."
If not really the SEA, that leaves a gaping question of who did this, and why. The Daily Dot has requested comment through this group's YouTube channel.
We've transcribed what we think is the entire message below:
Salaam Alaikum.

I'm here to bring awareness of the upcoming intentions regarding to the so-called land of the free and our precious territory.

The stupidity and ignorance by government is beyond unacceptable. 

The world should be prepared to witness a blackout of which the likes has never been seen before.

There is going to be a surprise that will shock all the world and shock all the social media sites.

So be prepared. You were warned. The stage is set. Get ready.
UPDATE: The controller of the YouTube account responded to the Daily Dot 's request for comment via YouTube message:
Due to data leaks our accounts were compromised and are now being controlled by anonymous,They got a good deal of info about us but not enough to destroy us and our movement.
Whether they're Anonymous or SEA members, the identities of the account's controller and the creator of the video are still unclear.
UPDATE: The video for this "Syrian Electronic Army" attack has since been taken down, as has its corresponding Facebook page.
Before those removals, though the owner of that YouTube channel and the Daily Dot's established representative at the SEA each claimed to be the real SEA, and that they other side was compromised by Anonymous.
"We don't know yet, but we think that some Anons kids behind it, maybe the same ones who published false names of SEA members," the established contact said in an email. As reported Wednesday, there are some members of Anonymous split on how to attack the SEA.
Perhaps most interesting is that the Facebook page associated with the since-removed video was sponsored by Adixy, a company that offers YouTube views, Twitter followers, and Facebook likes for sale.
Screengrab via YouTube