Remember when actor Samuel L. Jackson muttered "Aww, shit" after losing the Best Supporting Actor Oscar to Martin Landau? 
Or when Alfred Hitchcock gave one of the shortest Academy Award acceptance speeches in history?
Chances are, unless you watched those award shows live, those classic moments came and went without anyone knowing.
Today those moments wouldn't occur without hundreds of tweets, videos, and GIFs inundating every form of social media seconds after happening. 
In preparation for the 85th annual Academy Awards (Sunday at 7pm ET), we compiled the best pre–Social Media Age moments that never made it as viral memes. 
1. Jack Palance works out: March 30, 1991
Palance, 73, performed a one-armed push-up on stage after winning Best Supporting Actor for his role in City Slickers.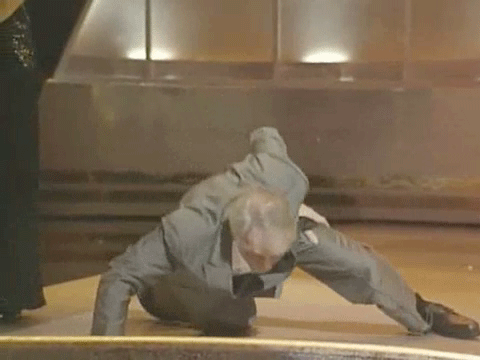 2. Oscar streaker: April 2, 1974
While actor David Niven stood at the podium to present the award for Best Picture, 33-year-old protester Robert Opal ran on stage naked during the live broadcast. "Isn't is fascinating to think that probably the only laugh that man will ever get in his life is by stripping off his clothes and showing his shortcomings?" Niven said.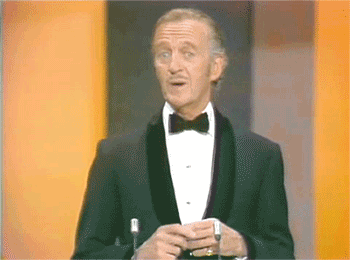 3. Samuel L. Jackson doesn't take losing well: March 27, 1995
After losing Best Supporting actor to Martin Landau and his performance in Ed Wood, the Pulp Fiction star muttered "Aww shit" on camera.
4. Roberto Benigni wins big: March 21, 1999
When actors or directors first realize they've won an Academy Award, the first thing they usually do is turn to their guest for a hug and kiss before walking up on stage. When the Life Is Beautiful director won, he decided to make his way to the stage by walking on top of the seats in front of him.
5. Alfred Hitchcock's acceptance speech: April 8, 1968
After accepting the Irving G. Thalberg Memorial Award at the 40th Annual Academy Awards, the legendary director made one of the shortest acceptance speeches in movie history with the phrase, "Thank you." Hitchcock did step back to the mic to add "very much indeed," but "the mic had already been turned off and that portion was inaudible," the Academy of Motion Picture Arts and Sciences reported.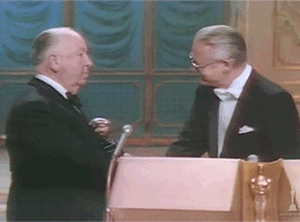 6. Cuba Gooding Jr. loves everyone: March 24, 1997
In the film Jerry Maguire, actor Tom Cruise showed Cuba Gooding Jr. the money. At the 69th Academy Awards, he was shown the Oscar for Best Supporting Actor. "His gushing speech—in which he shouted, 'I love you! I love you all!' while leaping around the stage—won him a standing ovation from his peers," Time Magazine reported.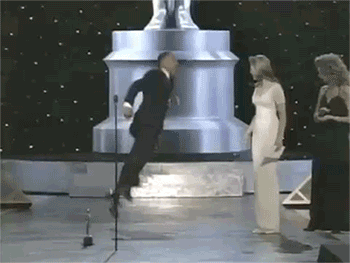 7. Whoopi gets the royal treatment: March 21, 1999
As part of her opening monologue, comedian Whoopi Goldberg donned an authentic-looking Queen Elizabeth I costume, including a wig and white face. "Good evening, loyal subjects," Goldberg said. "I am the African Queen. Some of you may know me as the virgin queen, but I can't imagine who."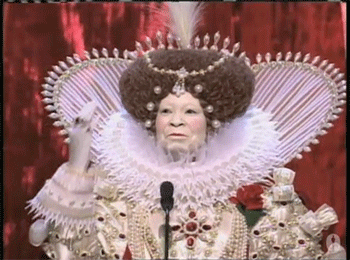 All GIFs by Jason Reed/Screengrab via YouTube