The color pops off the screen in Rye Lane, the feature directorial debut from Raine Allen-Miller. It's not just in how the bright hues or neon shades of the storefronts of the South London neighborhoods of Peckham and Brixton, nor the marketplace that gives Rye Lane its name, as far a cry from the muddled tones and murky lighting prominent in so many shows and movies right now. Dom (David Jonsson) and Yas (Vivian Oparah), the duo at its center, are dressed in a blend of color and patterns that work despite how they clash with each other, hints of their personalities shining through. And it's Dom's pink Converses that alert Yas that he's the same person she heard and saw crying in a unisex bathroom that kicks off an eventful and cathartic day neither of them saw coming.
Rye Lane

Release Date:
March 31, 2023
Director:
Raine Allen-Miller
Streaming:
Hulu
Over a very eventful day, two 20-somethings bond as they explore South London and help one another get closure from their respective recent breakups and potentially discover something more. Evoking staple rom-com tropes and films like 'Before Sunrise' while carving its own path, 'Rye Lane​​' is already an instant classic.
Rye Lane is full of those moments of pure and unexpected levity. Between the palpable chemistry between its leads, the witty banter in Nathan Bryon and Tom Melia's script that never overstays its welcome, and several inventive and surreal touches that shakes things up just enough, it already has the makings of a classic.
Dom and Yas may not have met before running into each other at a mutual friend's art show, but it doesn't take much for them to settle on keeping the other company. It's a temporary reprieve, a conversation only meant to last until they reach their destinations. But the easy flow of their conversation and their unwillingness to actually part when the opportunity arises take them across South London well beyond sunset.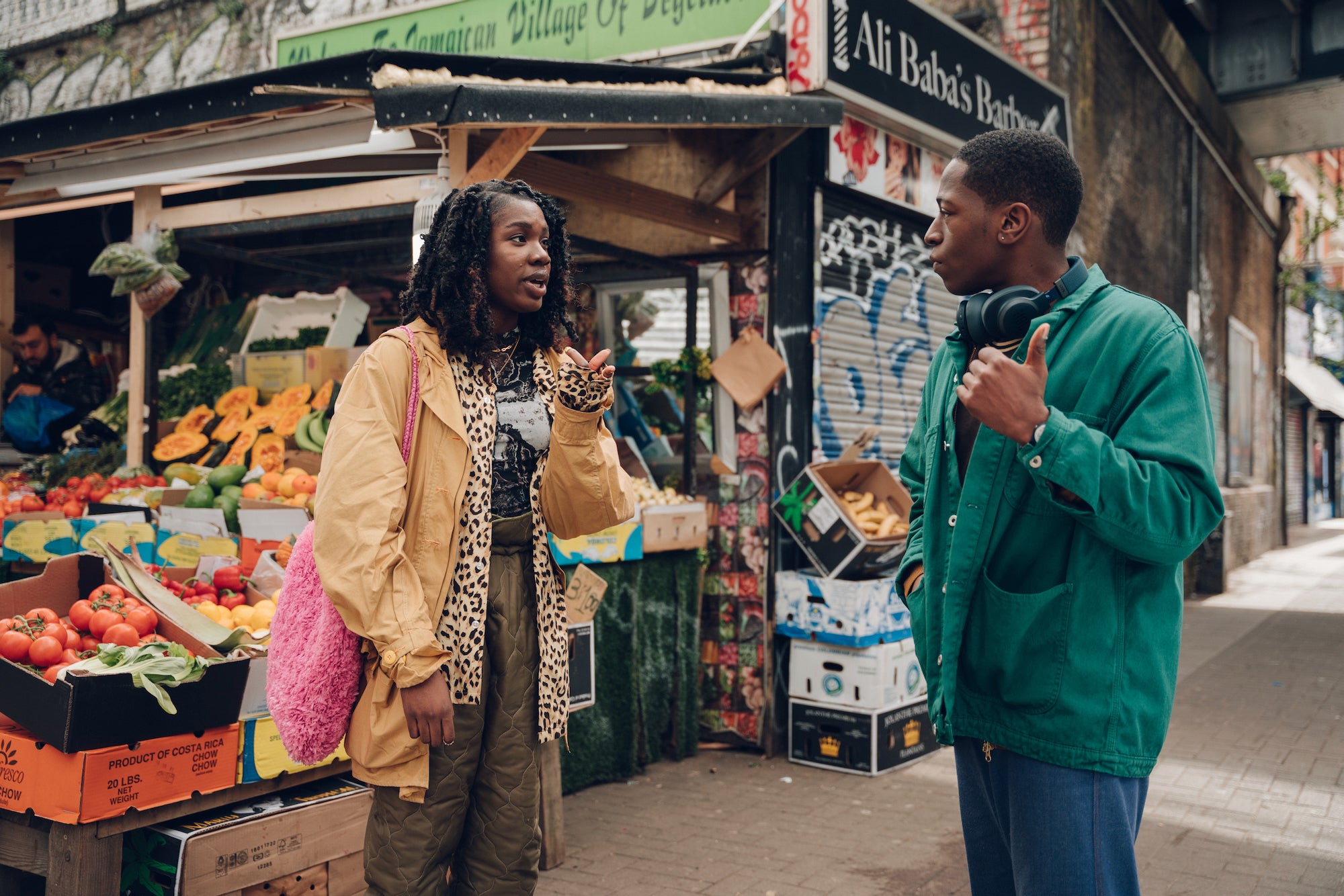 It doesn't take much for Dom, who's still reeling over his ex Gia (Karene Peter) breaking up with him after six years and leaving him for his best friend Eric (Benjamin Sarpong-Broni). It's recent enough that he refers to it as "the breakup," and the thought of seeing Gia and Eric for the first time since terrifies him. Even without seeing him cry in the loo, it's apparent that Dom, who moved back in with his parents and pretty much never leaves the house, is not doing well.
Yas, who recently went through a breakup of her own but insists she's on the other side of it, steps in to be his fake girlfriend and save Dom from humiliation. Grateful for the assistance, Dom offers to help Yas when she wants to sneak into her ex's home while he's out of town to take back the vinyl album he kept after the breakup. This adventure takes them across South London, to a family house party hosted by her ex's family, who hopes that Yas will date him again, and into the lion's den, aka a karaoke bar.
When Rye Lane isn't leaning into those hijinks, it still has some tricks up its sleeve. A sizable amount of the film's runtime (coming in at a brisk 82 minutes) is spent simply focused on Dom and Yas slowly opening up to one another across marketplaces as they grab a bite to eat, as they wander through playgrounds, and into record stores as the seeds of doubt and self-destruction are laid bare. I'd have been thrilled if the film stayed in that place even longer; Jonsson and Oparah absolutely shine.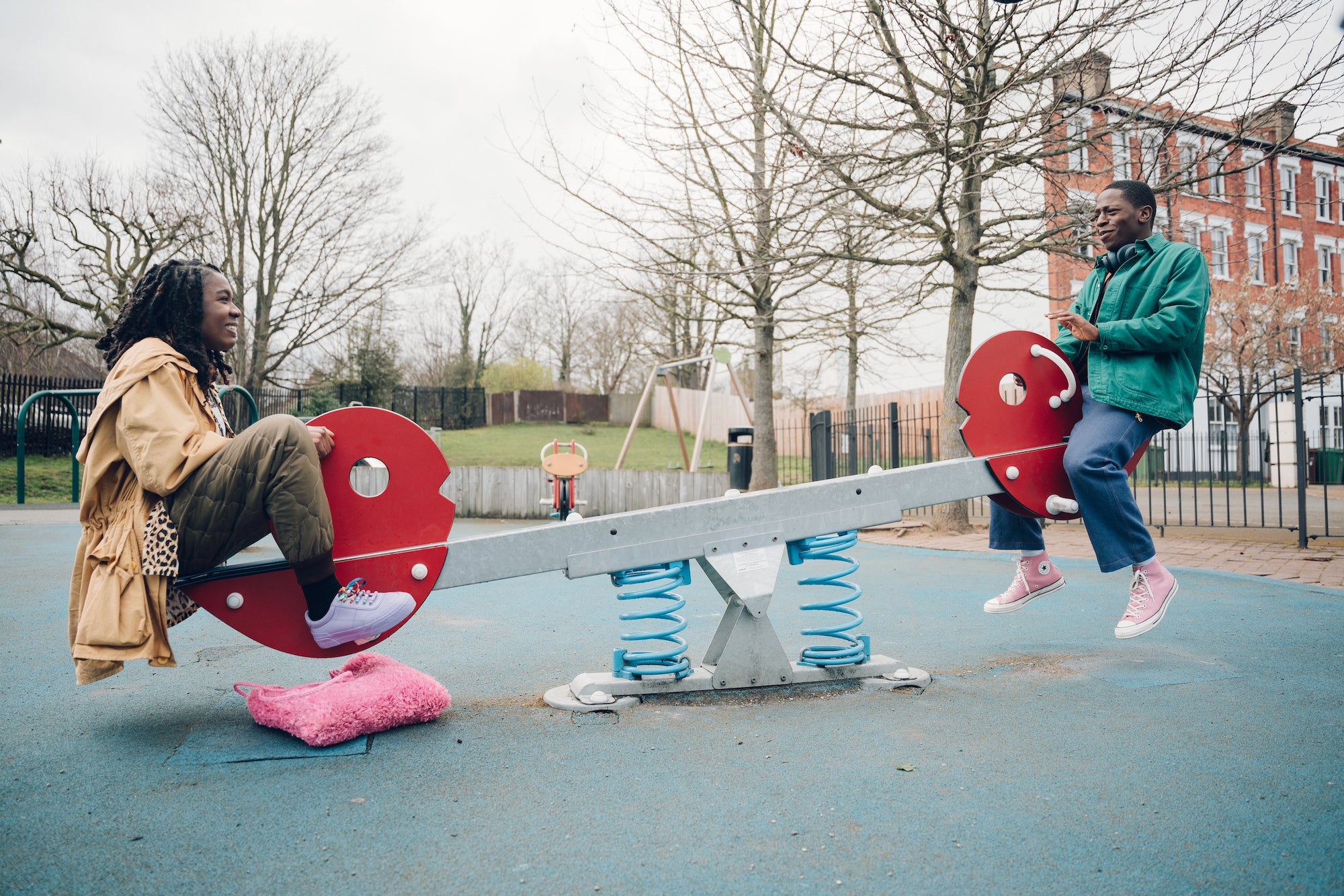 Like Richard Linkelater's Before Sunrise, Rye Lane flourishes in letting us sit with two people who may or may not be right for each other—even if the timing isn't quite right—connect for what could last a few hours or a lifetime. Even the cheekier rom-com nods (including a brief appearance from a rom-com stalwart whose identity I won't spoil) come off as delightful. The conflicts are small-scale, but they never feel trivial. Dom and Yas are simply allowed to be the messy and complicated characters they are.
But it's not only those rom-com conventions that make Rye Lane enticing. Allen-Miller's direction is confident, while cinematographer Olan Collardy employs a fisheye lens—even in scenes that might only be for the aesthetics—to make the world of South London feel more alive. The depiction of past events, such as the circumstances behind Yas' breakup, is performed to an audience in which every seat is filled with Dom cheering her own or booing her ex. They're inventive and fun, moves that add even more charm to a film that has it to spare.
"There are two types of people in the world," Yas tells Dom. "Those who wave at boats, and those who hate joy." With its heart on its sleeve, Rye Lane is the kind of refreshing movie that enthusiastically waves at those damn boats.
Rye Lane arrives on Hulu on March 31.


We crawl the web so you don't have to.
Sign up for the Daily Dot newsletter to get the best and worst of the internet in your inbox every day.