Reddit co-founder Alexis Ohanian revealed the origins of the social news site's logo for the first time today, showing that, at one point, the site's name had twice the "Ts" half the "Ds", and a whole lot of red.
Ohanian demonstrated the logo's evolution in a graphical timeline, which he posted on his Google+ page this morning.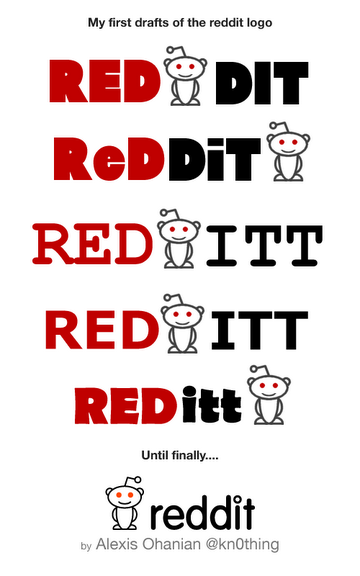 Ohanian designed the logo in 2005 when he and co-founder Steve Huffman were still undergraduates at the University of Virginia.  
As for the Reddit mascot itself, that was quite literally born from a doodle:
"I was bored in marketing class my senior year of college at UVA and doodled the alien in the margins of my notebook," Ohanian wrote in a Reddit thread last month.
The Reddit logo has seen dozens of incarnations. Prior to leaving in 2009, Ohanian would frequently draw unique logos for holidays or other special events. Now an entire section exists on the site for users to submit their own logos, the best of which Reddit admins sometimes allow to briefly grace the site's front page.
Ohanian, who returned to Reddit this year after a two year absence, has made a habit of designing popular mascots for his projects. These include the Hipmunk chipmunk and the Breadpig pig (Ohanian revealed the origins of the Hipmunk logo earlier this week on Google+. That post's popularity inspired him to follow up with his Reddit post today).
All three of the mascots feature on Ohanian's profile picture for both Twitter and Google+. For Ohanian, the creatures aren't just fun. They're serious business.
In an interview with Inc magazine earlier this year, Ohanian explained why a good mascot is important for any business:
"You don't ever have to worry about your mascot going on a coke binge with hookers like Charlie Sheen. Not that Steve and I would do that, but I actually really like the fact that I can go to Reddit meet-ups and most people have no idea what I look like. I want people to associate their experience with this infallible animated creature."