For all its faults, sometimes Reddit is really just the most amusing gathering of unapologetic weirdos on the Internet.
Looking for a thread to twist your mind up today? Try this totally hypothetical AskReddit question about whether it's immoral to picture your girlfriend as a goat when you have sex with her. When you have anonymity and access to thousands of commenters, is there really any place better to pose an everyday bestiality quandary?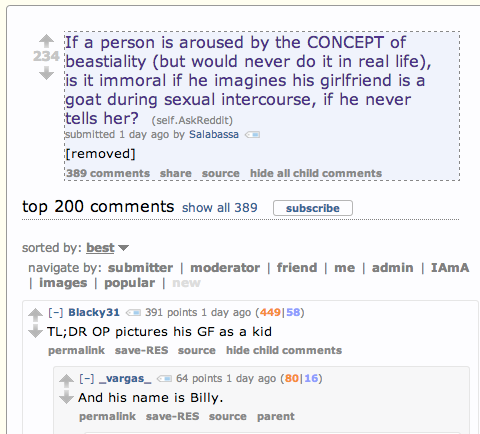 The poster suggests this person would never actually have sex with a goat, and that he is only aroused by the concept of bestiality but not the actual act.
Why a goat? "A horse in my mind is too classy and elegant to see as a sexual creature, whereas a goat is more… slutty. Or baaaaaaad."
The responses run the gamut from "WTF?" to the very measured and open-minded "Nothing is immoral if it's only in your mind, man." A few users have said engaging in the secret goat fantasy could be bad for the OP's separation of fantasy and reality, leading him to be less loving and intimate with his girlfriend. It's pretty evenly divided over whether he should tell her or not—some say she might be game to dress up or to bleat during orgasm and that if she truly loves him, she'll play along with his weird kink. 
Reddit loves to expound on the idea of "thought crime," the concept from Orwell's Nineteen Eighty-four where seditious mental activity—or, in Reddit's case, sexual deviance or uncontrollable urges—is criminalized like actual illegal business. There's been much debate on Reddit over persecuting a person's secret thoughts, often pertaining to the danger of engaging in pedophilia in one's mind without any intention to actually harm a child. 
Whether or not the thought crime defense extends to drawings, though, or Web activity—as in the case of "cannibal cop" Gilberto Valle, facing life in prison for plotting online to kill, cook, and eat women—is debatable.
The consensus: Obviously, whatever you're fantasizing about can't be policed, goat man. You'll be perfectly OK as long as the goat-love stays in your head.
These goat puns, though—these ought to be shared with the world.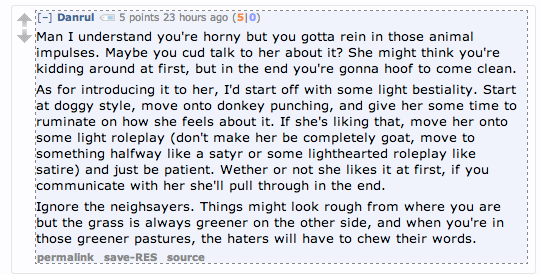 H/T Policy Mic | Photo via kkirugi/Flickr