If at first you don't succeed, try and try again. Such appears to be the motto of the members of r/TheFappening—an online community on Reddit dedicated to sharing the stolen intimate photos of dozens of female celebrities. After a donation drive for the Prostate Cancer Foundation (PCF) "in honor of Jennifer Lawrence" was rejected by the charity, redditors are taking their masturbatory philanthropy elsewhere.
Next up: the Matt Damon–founded water charity Water.org, a self-described "non-profit organisation that has transformed hundreds of communities in Africa, South Asia, and Central America by providing access to safe water and sanitation." But after a day of fundraising, r/TheFappening was rejected once again.
.@Water shuts down their fundraiser associated with guilty fappers. http://t.co/9ychwXZFcr @neetzan pic.twitter.com/VJkwXgUvsl

— Brian Koerber (@bkurbs) September 3, 2014
"Not only are we worse than cancer, but people dying of thirst as well," wrote one user.
A dedicated fundraising page on Water.org's website is keeping track of donations from the redditors, which have so far raised nearly $2,000, out of a self-imposed $10,000 target.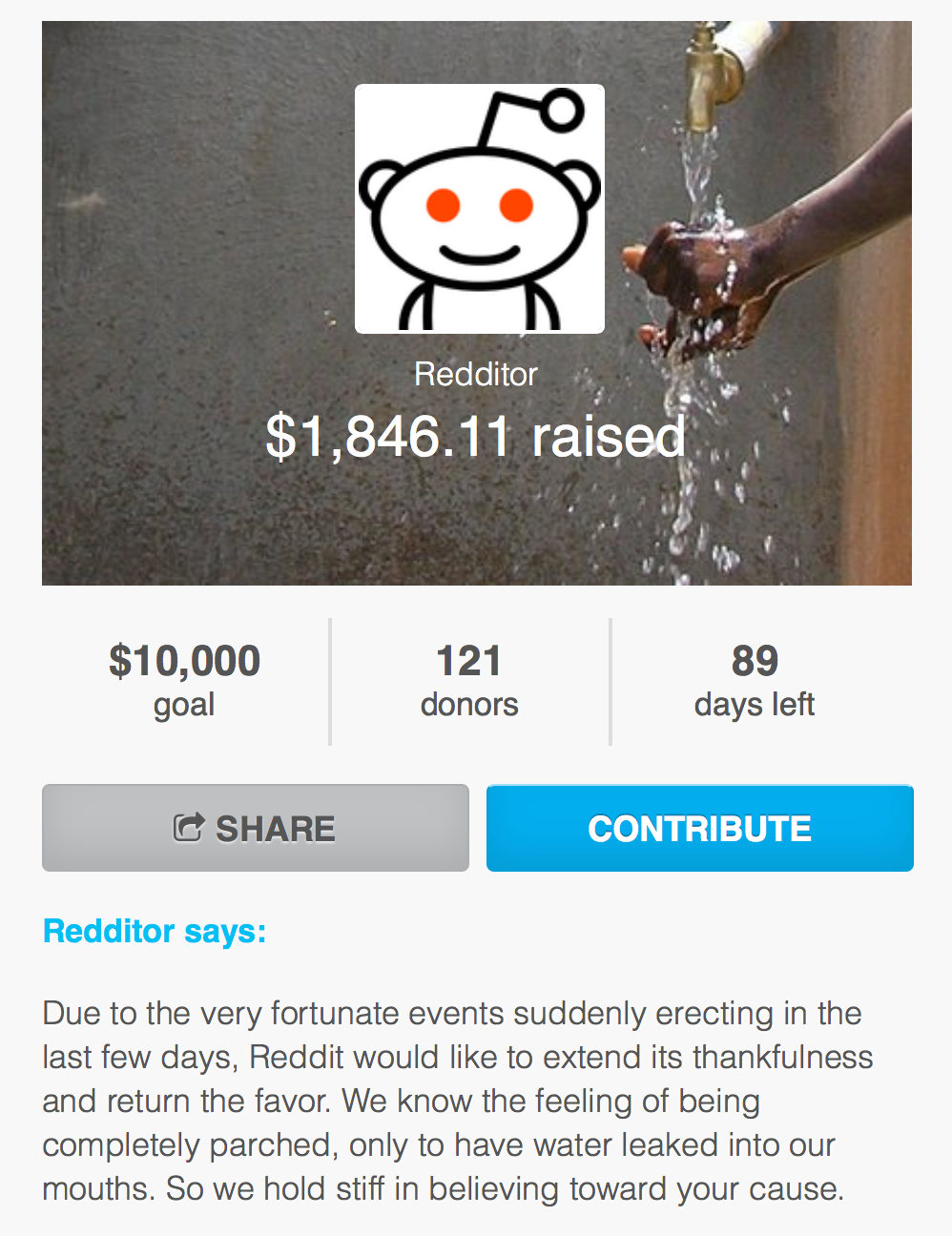 The page's description is loaded with references to masturbation—"we hold stiff in believing toward your cause"—but also seeks to persuade Water.org not to cancel the fundraiser and return their donations, a very real fear after the PCF's rejection. "People have their reasons on why we're donating, when in reality all we're trying to do is make light out of a rather bad thing, and have a few laughs about it," it says. "Which isn't exactly the most noble of reasons to donate, but definitely should be the reason of one's donation being rejected."
"Some people in the world have more serious problems than what to tap to. I hope this helps in some way," reads one $5 donation. One donor giving $200 offers up a prayer alongside it.

"Was going to donate $3.20 but I guess the minimum donation is $5," says another. "Just wanted to remind everybody to blaze it."
The previous fundraiser, for the Prostate Cancer Foundation, was borne out of (unconfirmed) claims that Jennifer Lawrence—one of the celebrities most prominently featured in the leaks and the ongoing media attention—was a patron of the charity, and reportedly raised more than $15,000 before it was shut down. "We would never condone raising funds for cancer research in this manner," a spokesperson told the Daily Dot.
Water.org has not yet responded to the Daily Dot's requests for comment.
Photo via Wknight94 / Wikimedia Commons (CC BY-SA 3.0) | Remix by Rob Price