YouTube favorite Ray William Johnson took some time out of his busy schedule tweeting about the breasts on Game of Thrones today to update his 1.4 million followers on an important detail in his professional life: Maker Studios, the Los Angeles-based production house that helped Johnson achieve his long-running reign of YouTube dominance, will not return ownership of his popular channel's AdSense account, despite the fact that the working contract between the two parties has since expired. 
Johnson's planning a lawsuit against Maker, effective, as he notes, immediately.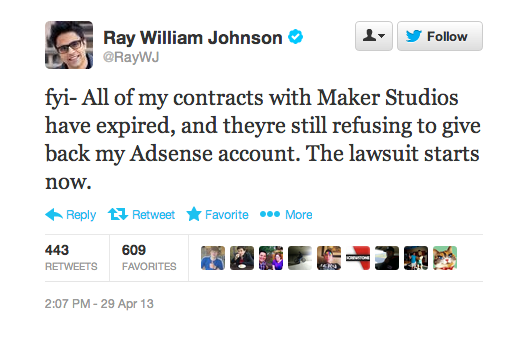 The announcement is noteworthy, though not altogether surprising. Johnson's beef with Maker and the studio's CEO Danny Zappin is public knowledge, something Johnson wrote about quite candidly in a piece for NewMediaRockstars in October, just a few weeks after Johnson opened his "World's Greatest Ninja" video with a detail about how his beloved Equals Three (=3) show would no longer be a part of the Maker Studios network. 
"I'm going to film here for a while," he said from a room in his house. "Even if I don't have the proper equipment. Even if I have to film but-ass naked in an alley, you guys are getting an episode."
Johnson was still under contract with Maker at the time—and held pole position as the most popular person on YouTube—but waning view counts and a bit of internal strife resulted in Maker slashing its 12-man production staff for =3, forcing Johnson to script, shoot, and edit his show all by his lonesome. 
The question now becomes what will happen with Johnson's AdSense account. Standard activity—as well as AdSense's Terms of Service—would suggest that the account, which tracks and manages the money that Johnson makes through YouTube, would be under Johnson's management, if he did in fact create the account. But that may change based on how the two parties' contract was structured. 
Neither Johnson nor Maker responded to the Daily Dot's request for comment. 
Photo via Ray William Johnson/YouTube