Even the Zuckerbergs don't quite understand Facebook's ever-changing privacy settings.
Mark Zuckerberg's sister Randi found that out the hard way after one of her private Facebook pictures ended up on another website, The Atlantic Wire reported.
The former head of marketing for Facebook and the executive producer for Bravo's Silicon Valley took VoxMedia marketing and projects director Callie Schweitzer to task after she posted a candid photo of Zuckerberg's family reacting  to Facebook's new Poke app to her public Twitter feed.
In a now-deleted tweet, Schweitzer posted the photo with the caption, "[email protected] demonstrates her family's response to poke. #GAH."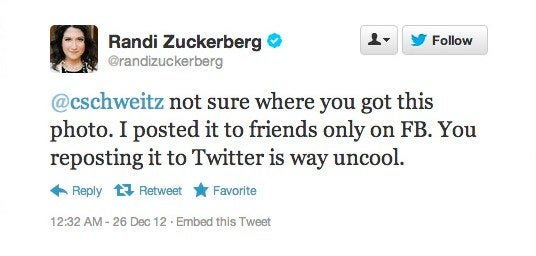 Photo via Topsy
Zuckerberg didn't like her personal photos going around the Internet, so she quickly got snappy with Schweitzer on—what else?—Twitter.
"@cschweitz not sure where you got this photo. I posted it to friends only on FB. You reposting it to Twitter is way uncool," Zuckerberg wrote in a tweet she has since deleted.
Schweitzer explained that it was an accident and that she thought the photo was public. Some grade-A snooping from Zuckerberg revealed the reason that Schweitzer was able to see the photo despite it being marked friends-only (as well as a flaw in Facebook's privacy settings): Schweitzer is Facebook friends with Zuckerberg's sister, and saw the post because her sister was also tagged in the Poke reaction photo.
The Atlantic Wire explains that the friends-only setting is not enough to hide photos from other prying eyes. The standard setting is that friends of friends tagged can also see the photos unless you change the setting on the actual album in which the photos are located.
Schweitzer deleted the tweet and photograph at the request of Zuckerberg but requested that the Facebook founder's sister make it public so that more people could see and enjoy the photo.
"@randizuckerberg fwiw, i thought the photo was incredibly endearing which is why I liked it. We never see humans on the Internet!" Schweitzer tweeted.
Zuckerberg has yet to respond to Schweitzer on Twitter, but she did post a passive-aggressive message for her followers to note, leaving many who missed the previous conversation to wonder what happened.
"Digital etiquette: always ask permission before posting a friend's photo publicly. It's not about privacy settings, it's about human decency," Zuckerberg tweeted.
Image via Facebook