An off-duty Los Angeles Police Department officer is accusing Target Starbucks employees of hiding a tampon in his Frappuccino.
In the hours since his accusations made headlines, employees and former employees of the coffee giant have been trying to disprove the claim.
The incident reportedly occurred at a Starbucks nestled in a California Target. Fox 11 reporter Bill Melugin spread the officer's story on Twitter, where it caught the eye of Starbuck's employees. The events outlined in Melugin's tweets and accompanying story didn't quite add up for some employees, who pointed out issues and holes in his retelling.
According to Melugin, the off-duty officer was halfway through his Frappuccino when he discovered the tampon. Due to his reported use of a "police credit union debit card," it appears the officer believes the tampon to be a targeted attack. The local sheriff's department, according to Melugin, is currently investigating.
The incident allegedly took place at a Starbucks in a Target, so the employees technically work for Target, not for the coffee company. The sheriff's department has reportedly pulled the surveillance video from Target and is reviewing it. An employee at the Target location told Melugin that she was "aware of the incident."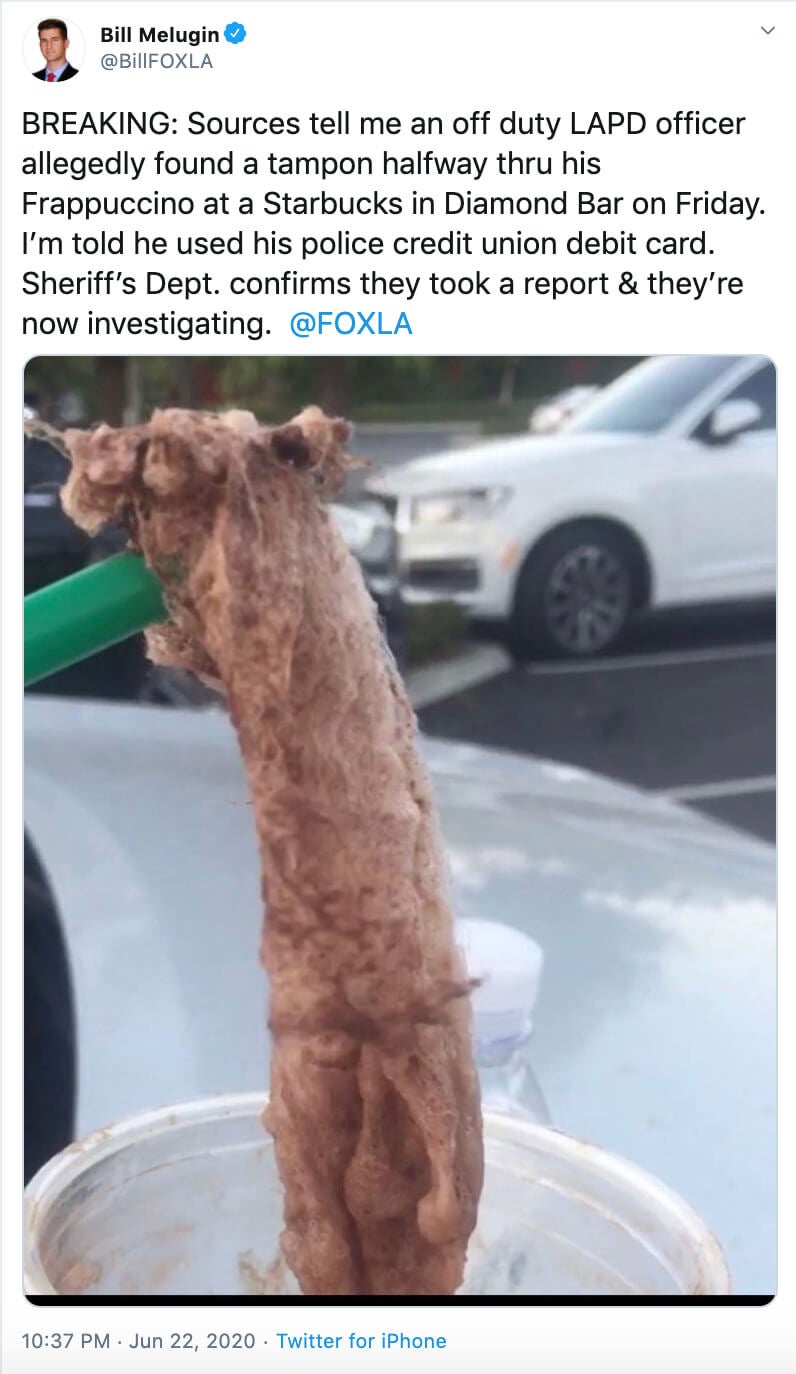 "This disgusting assault on a police officer was carried out by someone with hatred in their heart and who lacks human decency," the Los Angeles Police Protective League said in a statement that Melugin shared. "We hope they are publicly exposed, fired, arrested, and prosecuted for their cowardly and repugnant actions."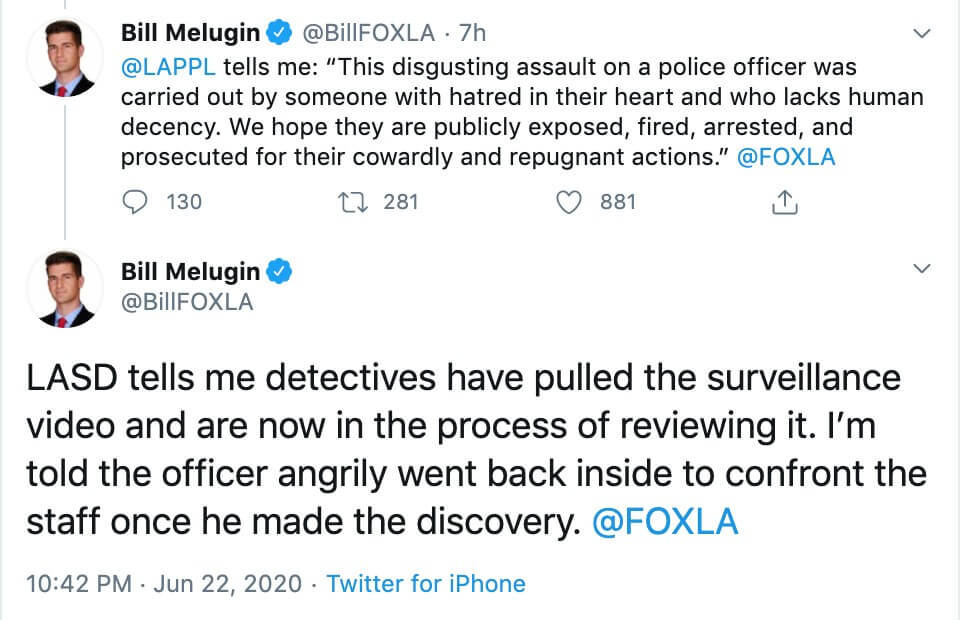 As Melugin's story began trending online, Starbucks employees couldn't help but weigh in. Many of them found the details in the story to be suspect and began pointing out the holes and issues they found on Twitter.
"I know this doesn't really matter but I worked at a Starbucks for years," one former employee wrote. "The logistics of this are just not possible. There's like 60 seconds in between a Frappuccino being ordered and being made and Starbucks employees can't just run off the bathroom whenever they want."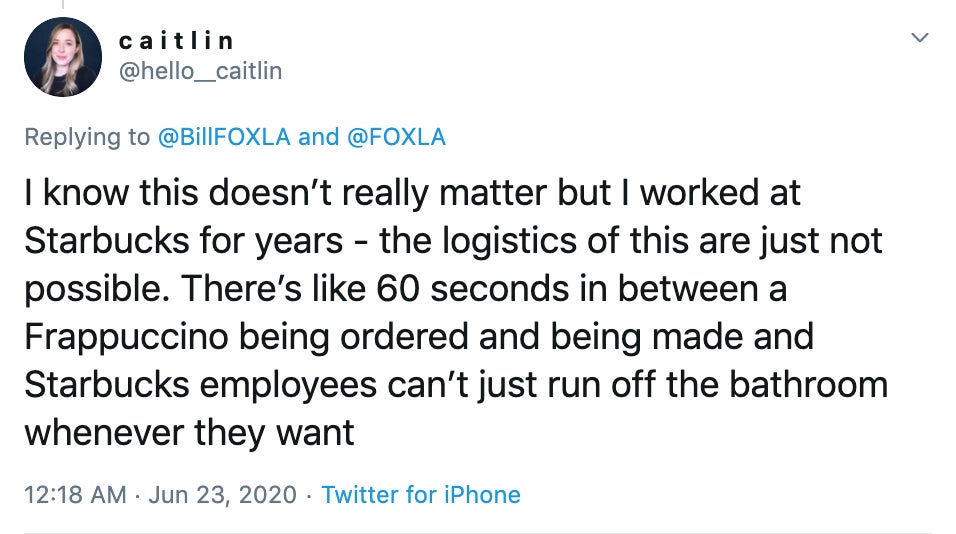 Many employees found similar issues with the story. Overall, most seemed to agree that it would be a real challenge for any employee to get away long enough, in secret, to hide anything in a customer's drink.
Some commenters, particularly women, didn't think the attached photo looked like a tampon at all. This lead to theories that the story, like several others before it, had been fabricated to stir up sympathy for police.
Other commenters found the attention being paid to the officer's story to be exhausting. They said that police should focus more time and attention on other issues, like the lack of charges against the cops who killed Breonna Taylor.
As noted by Melugin, the LA Sheriff's Department is looking into the incident. If, as so many commenters believe, the story is in fact fabricated, the police will have committed a crime.
Update 6:45am CT, June 24: After publication, Target responded to the Daily Dot's request for comment. The company said they didn't notice any unusual behavior in the store footage.
"We take this allegation seriously. We have reviewed video footage and have not found any suspicious behavior," Target said. "We have shared the video with the Los Angeles County Sheriff's Department and look forward to the conclusions of their investigation."
READ MORE:
H/T Fox11