Frank Shaw has been called brave, ballsy, and amusing for his Pinterest prank on failed Google projects. Four hours later, Frank Shaw got called out.
The Seattle native, a communications head at Microsoft, decided to have a little fun at a competitor's expense Tuesday night when he created a Pinterest board detailing Google's many failed experiments and creative pursuits. Labeled Google Graveyard, the board lists 33 of Google's more notable miscues, from the high profile Google Wave to the recently defunct Google Health.
Shaw announced the board Tuesday night on Twitter. "Saw that @parislemon was mourning for iGoogle, made me think about other G products that are no more," he wrote. "How to keep track? Then I had an idea.
"Pinterest to the rescue! A moment of silence, please… introducing the Google Graveyard."
Shaw's tweet received 62 retweets and a few hat-tips to omissions. But not everyone was so amused.
At 11pm ET, Time magazine's Harry McCracken logged on to his account to announce his latest venture, a direct response to Shaw's prank: "Inspired by the Google Graveyard, I created a Microsoft Morgue."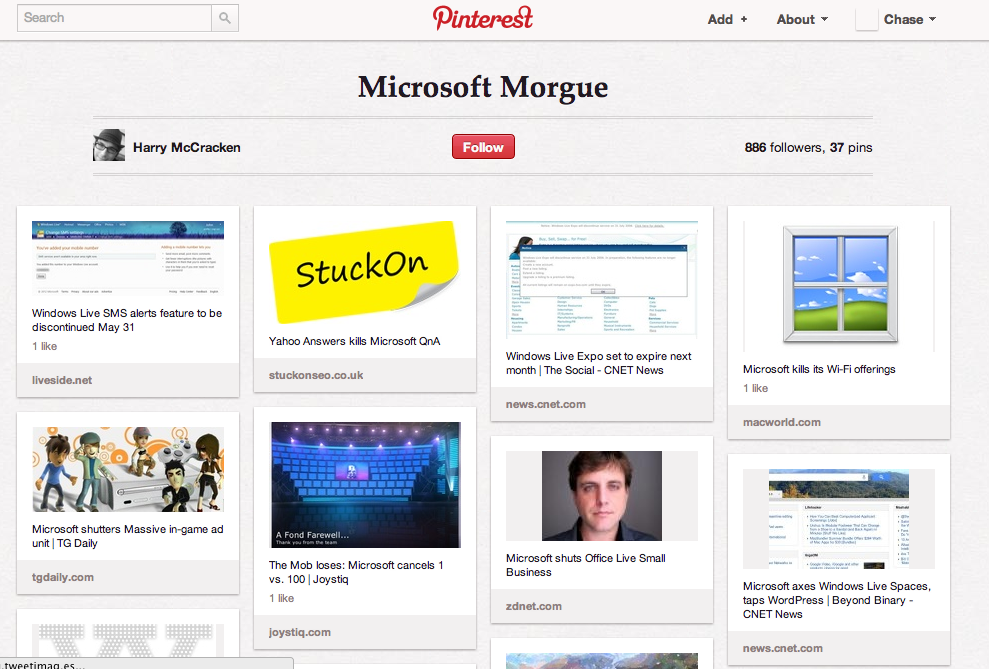 The tech world loves to bicker and bite.
We'll let Business Insider sort out what it means for Microsoft to be making fun of Google for failed business ventures. Just know that the new battlegrounds are taking place on Pinterest.
And get tickets now for when the two duke it out on the stage of some glitzy conference.
Photo via Pinterest