Patrick Carney knows one way to get back at a rabid pack of #Beliebers.
Incensed over the massive pile of hate tweets sent his way after his post-Grammy comments about Justin Bieber's fame and general lack of artistry fired up an army of the mega-star's allegiants, the Black Keys' drummer decided to fight fire with fire by becoming one of them.
"To all my peoples U make make my life so full of swag," newfound Belieber Carney wrote just after midnight Saturday morning. "I swag out all day just thinking about all the swag u guys inspire me to swag with."
The comment raised concern among the Bieb's massive amalgamation of fans, who'd been shooting vitriol Carney's way since Sunday, but by then Carney was committed. Three hours later, the man had changed his profile, swapped out his own avatar for a headshot of Bieber, and he'd already gotten himself four "swags" into a swagalicious run that would eventually end in 100 mentions of the tremendously overused word.
"In order 2 give u guys full swag I have changed my stage name to Justin Bieber," Carney wrote, adding some iteration of "I am justin bieber now" to next 100 tweets.

Carney's "transformation" continued until Sunday afternoon when Carney returned to his Twitter feed to report for that the "DNA recombo" was unsuccessful, but in that time, he successfully made more than a few of Justin Bieber's 34 million followers angrier than Selena Gomez after she saw those pictures of Justin hobnobbing with Team Victoria's Secret.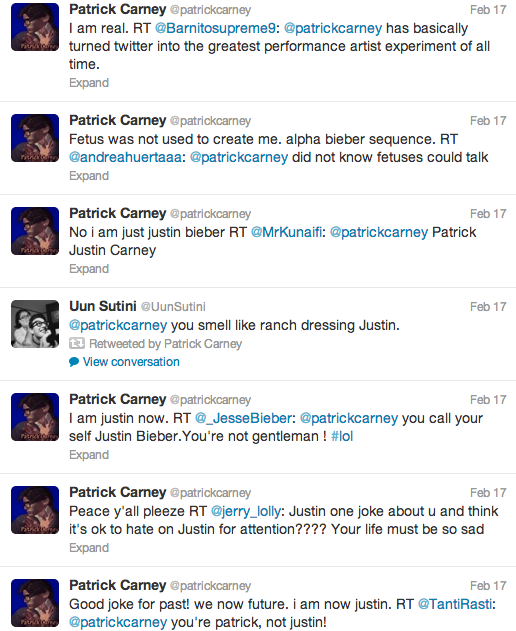 The drummer has spent the time since his return to Patrick Carney-dom retweeting Beliebers' angry messages about Carney's comments. 
Hey, Beliebers, grow up.