If it's not apparent enough from your Twitter feed (unless you're avoiding it out of fear of spoilers), we love talking about Game of Thrones. And thanks to Outbrain, we can finally see where everyone's allegiances lie—or at least which characters are the most discussion-worthy. 
The site gathered data from 5,104 articles published over 100,000 sites from Australia, Spain, France, Germany, Italy, the U.K., and the U.S. last month to see who people were talking about prior to the Season 4 premiere.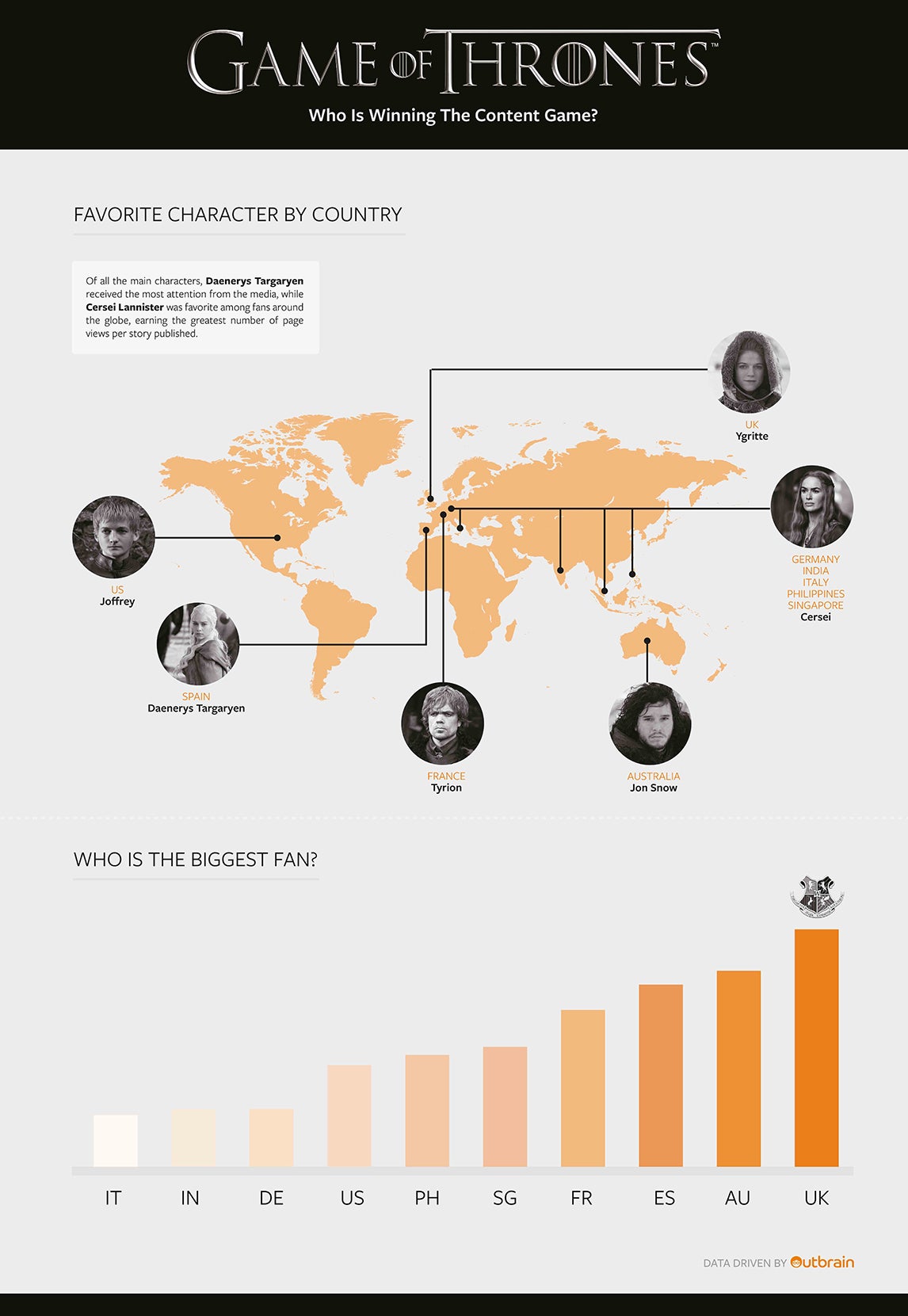 What's surprising is that, even though the Red Wedding was still fresh on many's minds, Robb or Catelyn Stark didn't even make the cut. And while Game of Thrones is made by the American premium cable network HBO, we're not its biggest fans. That would be our U.K. neighbors across the pond.
And out of all the main characters on Game of Thrones, America sure loves talking about Joffrey. Yes, the king of Westeros we love to hate, whose statue we tried to knock down in New Zealand.
Well, we do love our TV sociopaths.
Cersei Lannister emerged as the most popular character, winning out in five countries, while Sansa Stark was the least popular (show watchers: just wait). Other fan favorites like Daenerys Targaryen, Tyrion Lannister, and Jon Snow emerged victorious in various countries while the U.K. picked Ygritte.
If you're sick of hearing about Joffrey, just avoid the Internet at this point. After finally watching Joffrey and Margaery's nuptials in last night's episode (we won't spoil what happened here), we're not going to see Joffrey's name go away anytime soon.
Full Disclosure: The Daily Dot uses Outbrain services.
H/T Geekosystem | Infographic via Outbrain; Photo via GameOfThrones/YouTube