There's nothing ordinary about Batman.
Brooding, bitter, and brilliant, he is the existential everyman—if only every man were a twisted, driven orphan who turned to crime-fighting as a way of striking back against a world of darkness arrayed against a fragile, flickering light.
Freelance illustrator and artist Sarah Johnson, 25, knows Batman well. In her Ordinary Batman series, she humanizes the Dark Knight without diminishing him. He may be pictured scooping out the litterbox, but hey, making the world a better place comes in all kinds of forms.
"Ordinary Batman Adventures began as a simple break from some very tedious freelance animation I was working on," recalled Johnson, a self-described "small town country girl from the Upper Peninsula of Michigan," who graduated from the Rochester Institute of Technology with a BFA in Film & Animation. "Working from home and not always have a gig going on means I get to catch up on all the great TV shows I never had time to watch growing up. That included watching every episode of every animated series of Batman.
"I'd been a Batman fan growing up, but finally getting to see the cartoons in all their continuity and glory really sucked me into the world."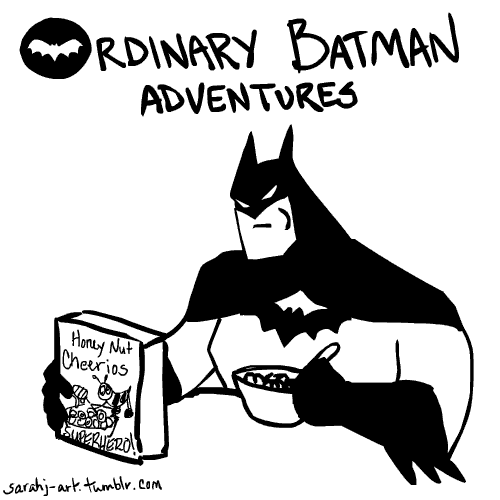 Batman's simple humanity is, for Johnson, one of the attractions.
"The reason I probably connect with Batman more than other superheroes is that he does not have powers like my number one favorite heroes, the Teenage Mutant Ninja Turtles," Johnson said.
"Batman is all dark and broody so it's more humorous to see him lacking a crime to bust or a villain to take down. I like to think of my GIFs as a slow day in Gotham when no one is looking."
While Johnson has no plans to profit from the series, she does have ambitious plans.
"My next major move will be creating my own original GIF comics," she said. "Before joining Tumblr in August 2011, I didn't know there was this great outlet for new comic artists. It's a great place to share your art and your ideas and the boundaries of the comic book world seem non-existant to me now. My highlight of Tumblr is the Little League comic by Yale Stewart."
Her process is straightforward. Working on a Wacom tablet in Flash, everything in Ordinary Batman starts as it finishes: fully digital. "My other artwork includes watercolors and digital paintings for the most part. The subjects range from woodland critters to Adventure Time. My more detailed GIF art that pops up every now and again is animated in Photoshop.
"GIFs really register with me as an art form because of my love for animation and my background in it," she continued.
"Before seeing all the great GIF comics such as Zac Gorman on Tumblr, I thought GIFs were still mainly a thing of the '90s limited to waving flags and old clip art. It was amazing to find all these great works of art that moved. It's almost impossible for me now if I'm working digitally, to avoid making it into a moving GIF."
While active on Etsy, Society6, LinkedIn, and her own website, Johnson's work has taken on a life of its own on Tumblr.  
"I hope that Ordinary Batman Adventures brings a smile or even a laugh to anyone that stumbles on it," she concluded. "I enjoy making them and I like to think it's worth the time to share them with the world."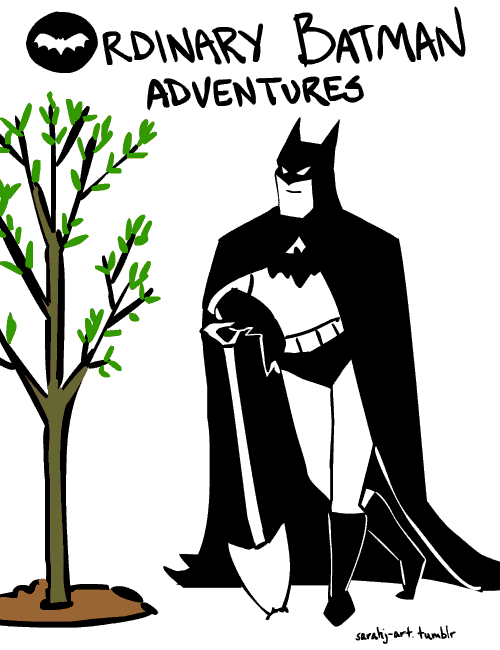 Illustration by Sarah Johnson