A Facebook page claiming to be a Reynoldsburg, Ohio Radioshack is posting some savage status updates after the company announced it was shutting the location down.
"We closed. Fuck all of you," the store posted to its page late Monday night.
"Always hated all you prick customers anyway," a second post reads, posted Tuesday morning.

By Tuesday afternoon, the page had updated its cover photo to an image of a neon Radioshack sign with several letters darkened, leaving only the letters "adioS." The obvious sign of a bitter farewell.
It's no surprise that the electronics convenience store isn't doing so well—Radioshack announced in March that it had filed for bankruptcy for the second time since 2015, and would be closing at least 200 stores nationwide and reviewing the potential for its 1,300 other locations.
Though Columbus Business Journal confirmed in early March that the Reynoldsburg location is in fact scheduled to be shut down alongside all other Central Ohio locations, it's not yet clear whether or not the Facebook page actually belongs to the store. It's not a verified Facebook account, but neither are other seemingly real pages for other Radioshack locations.
The account's first post was made last April, but the only activity visible since its creation is a single update about a sale on headphones, posted in early April of this year—just after Radioshack's bankruptcy announcement.
Regardless of its validity, whoever is running the account is staying active and effectively dragging some of the company's biggest competitors.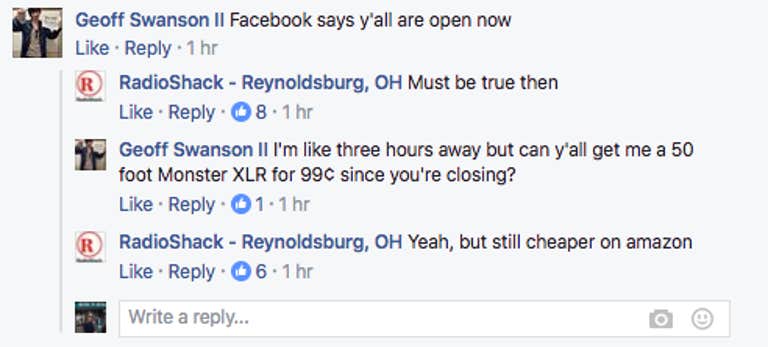 The dying electronics company has been trying to save face since it went bankrupt for the first time in 2015, hiring personality Nick Cannon as its new official spokesperson that same year. Still, hundreds of its stores today will fall victim to what's being called the "retail apocalypse," with retail locations shutting down across the country as consumers shift in favor of online shopping.

H/T Business Insider