A mommy micro-influencer on TikTok sparked a debate after making a video about who her favorite child is.
Olivia Smith, who has almost 14,000 followers on TikTok, posted a video on Saturday, which has been viewed a whopping 1.4 million times.
"Tell me you have a favorite child without telling me you have a favorite child," she says at the beginning of the video, cuddling one of her sons.
"Joking of course…" she captioned the video. 
"I'm not gonna go first, because I definitely don't have a favorite," she says, tilting her head toward her son.
"I definitely don't have a favorite child at the moment," she repeats while zooming the camera in on him.
"I love you mama," the boy says. 
"Oh, I love you, baby!" she says, squeezing him harder and tilting her head toward him, in an apparent attempt to signal her viewers that he is her favorite.
TikTokers flooded the comments section of the video with mixed reactions, many of which are critical of Smith.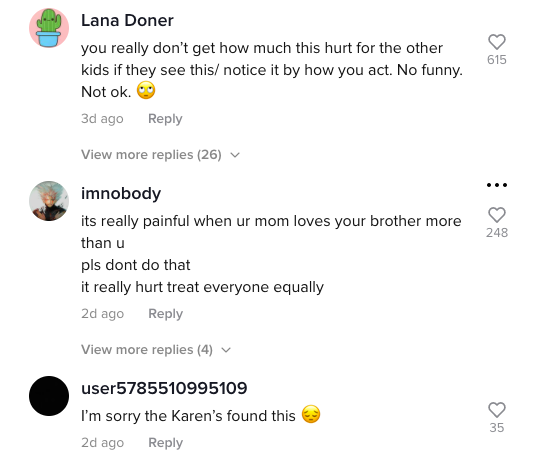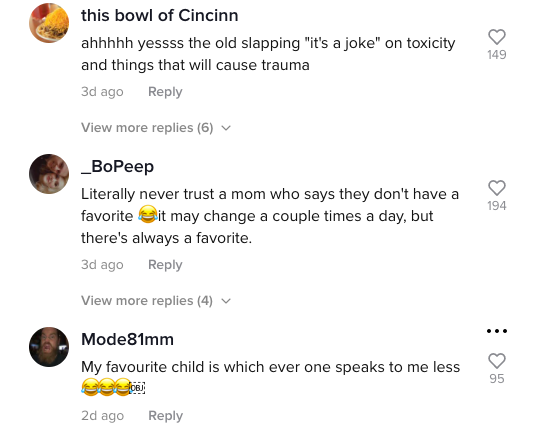 "This is wrong in so many levels.. wheter (sic) is a joke or not the kid now knows (sic) hes the faborite (sic) and will that in his head," one user wrote in a comment that received more than 1,100 "likes."
Others echoed the sentiment that "this is messed up," even if it is meant to be "a joke."
"You really don't get how much this hurt for the other kids if they see this/ notice it by how you act," wrote another user. "No funny. Not ok."
Another accused Smith of "slapping 'it's a joke'" on the video to get away with "toxicity and things that will cause trauma."
"Its really painful when ur mom loves your brother more than u," commented one user. "Pls dont do that. It really hurt."
Some people, however, thought the video was harmless.
"I dont have a favorite. I don't like either of them tbh. lol," wrote one user. 
"I'm sorry the Karen's found this," another said.
Smith responded to a user who said "my favorite child is which ever one speaks to me less" by saying, "You can't say that on the internet… people will be triggered!!!"
In a follow-up video posted the next day, Smith calls the critics "sensitive" and assures them they have nothing to worry about.
She goes around her house, asking each of her children who her favorite child is. Each one believes they are the favorite.
"So chill," she tells viewers. "Laugh a little more."