The incoming freshman class at the Massachusetts Institute of Technology is already living up to the school's reputation of being lovable pranksters.
On Tuesday, Reddit user divinebaboon posted an image to r/MIT proclaiming that a pre-freshman—or a group of them—had hacked into an unofficial Harvard Class of 2017 website that listed the information of over 700 incoming students and replaced the photographs they had submitted with the same headshot of Mitt Romney.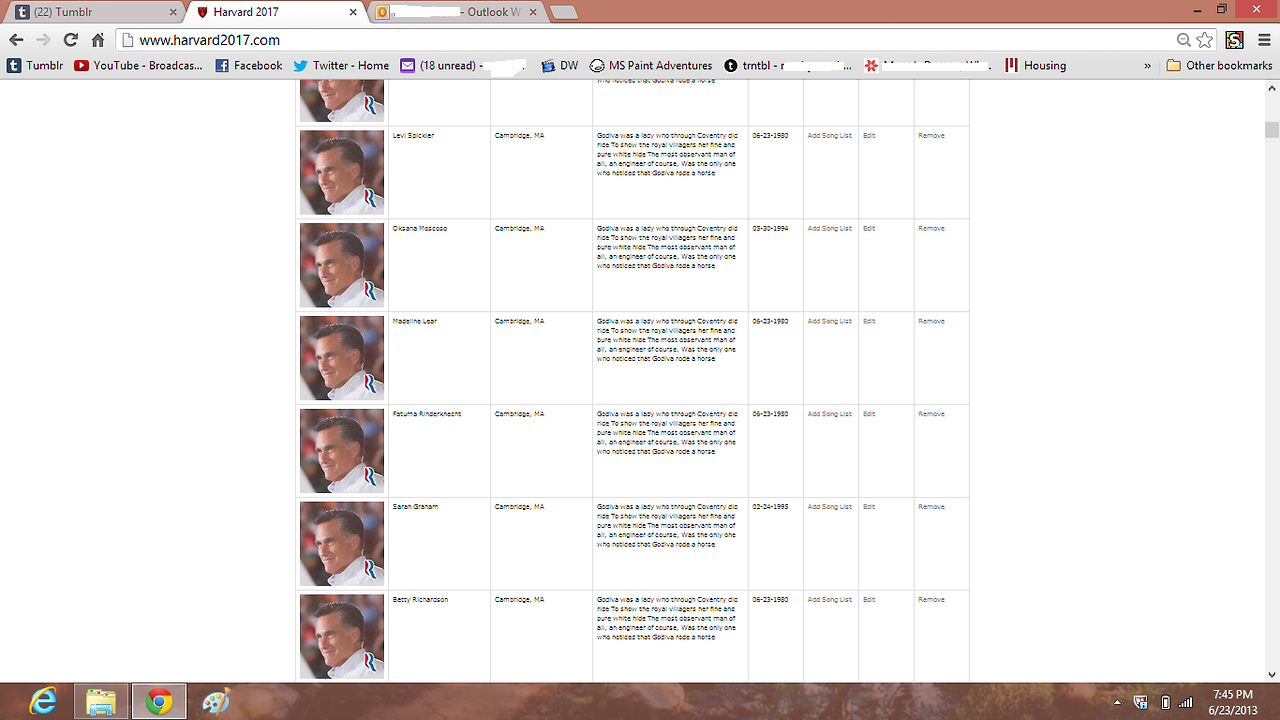 Photo via divinebaboon/Reddit
The hacker(s) also replaced any message a future Harvard student may have posted with the opening lyrics to "The Engineer's Drinking Song," a popular MIT ditty.
In typical Harvard behavior, the members of the class of 2017 responded by fake-laughing it off—pretending like they appreciated the joke when they were really irked by it— and issuing the following "declaration of war":
Whereas the Immature Prefrosh of MIT has committed unprovoked acts of war against the Harvard 2017 Website and the Members of the Harvard Class of 2017:

Therefore be it Resolved by that the state of war between the Harvard Class of 2017 and the Immature Prefrosh of MIT which has thus been thrust upon the Harvard class of 2017 is hereby formally declared; and the Harvard Class of 2017 is hereby ComMITted  to utilize the entire strengths of its class to carry on war against the MIT Prefrosh.
Apparently, grammar is not important at Harvard. Since "prefrosh" is plural, the first sentence should read "have committed," not "has committed."
Unfortunately for the future Cantabs, their declaration of war was also sullied by their MIT counterparts. In the second paragraph of the proclamation, someone left a comment asking, "do you evn lift havahd?", an invocation of one of the Internet's favorite condescending memes. 
This, of course, isn't the first time that Harvard has been pranked by rival schools. MIT has been pulling "hacks" on its same-town rival since the 1940s. Yale students also made Harvard students make fun of themselves during the 2004 edition of "The Game."
Correction: The Yale video featured above is from 2004, not 2009, as previously reported.  
Photo via Ian Lamont/Flickr