President Barack Obama isn't the only baller in the White House.
Michelle Obama, henceforth known as Air FLOTUS, threw down a tomahawk dunk as part of new public service announcement for Let's Move, the first lady's fitness campaign.
Getting the word out about healthy eating with @KingJames, @DwyaneWade, @ChrisBosh and Ray Allen. #LetsMove, pic.twitter.com/7r7w7jxXQS

— FLOTUS (@FLOTUS) January 15, 2014
The advertisement premiered on Good Morning America this morning and featured Miami Heat MVP LeBron James holding up a toy basketball hoop for Obama's videobomb turned slam dunk behind coach Erik Spoelstra and guards Dwyane Wade and Ray Allen. The look on Wade's face is priceless.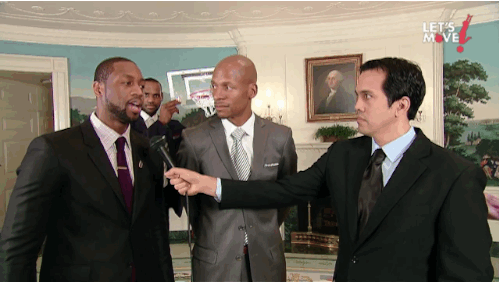 The Heat have a curious history with photobombing.  In May 2012, center Chris Bosh made Internet history when he appeared out of nowhere during a TNT telecast of an interview with James following a 104-94 playoff victory over the New York Knicks. Here it is again for good measure.
Screengrab via YouTube