The announcement set off a Death Star–sized explosion on Reddit.
Mark Hamill, best known as Luke Skywalker in the Star Wars films, had just started an AMA ("ask me anything") following news that he, Carrie Fisher (Princess Leia), and Harrison Ford (Han Solo) had signed on for the upcoming Star Wars reboot currently in the works. 
Like any eager fan, redditor tisgdayfc wanted to know about "casting, storyline, or otherwise."
The answer caused the hearts of every Star Wars and Star Trek fan to skip a beat.
"The only thing I can reveal is that there is going to be a crossover between Star Trek and Star Wars," Hamill said. "Expect to see Spock, Kirk and others. I know it sounds strange but the way JJ writes it will be amazing."

"WAIT WHAT THE FUCK DID I READ?" swim_to_survive commented. 
Whatever it was, it wasn't real.

What tisgdayfc, swim_to_survive, and other redditors didn't realize right away was that this AMA was a hoax. The real Hamill, under the handle RealMarkHamill, was conducting an AMA for a campaign to help support Make-a-Wish foundation. The fake AMA was subsequently torpedoed by moderators.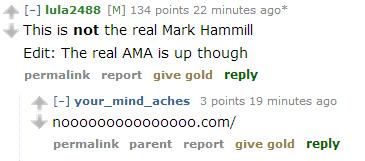 Even the official Star Wars Twitter tweeted a link to the thread. It was deleted shortly after, but Inagist picked it up first.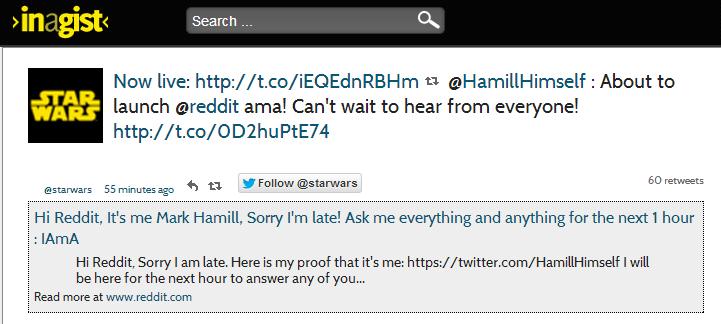 Put down your lightsabers and tasers, everyone. Order has been restored to the universe.
Photo by fotofong/Flickr