BY SAMANTHA ALLEN
The smooth, well-patterned prose is the strong suit of Marilyn Hagerty. And on a recent visit to the Grand Forks Herald website, I found that reading through her review of Ruby Tuesday created a delightful interlude in my day.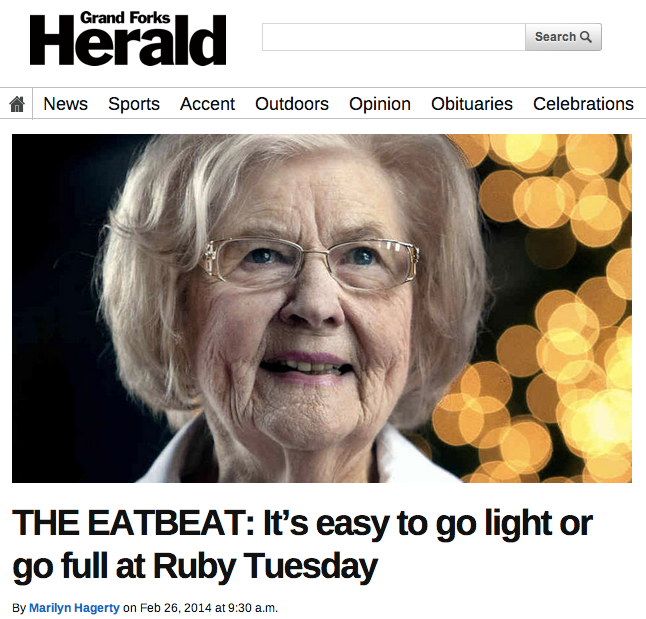 In her extensive review, I found attention to detail, a complete absence of segues, and a fine eye for chain restaurant decor. By the time I finished it, I was quite amused, and I shared her review on both Twitter and Facebook.
The long, well-stocked salad bar is the focal point of Ruby Tuesday. And on a recent visit to the upscale restaurant just off of 32nd Street in Grand Forks, I found grazing through the salad bar created a pleasing, healthful lunch.

From the extensive garden bar, I chose sliced tomatoes, pickled beets, ham, egg salad, greens, broccoli and edamame. By then, my plate was full, and I joined my group in a booth.
The long string of text at the top of the review allows you to return to the review whenever desired. And I would re-read Marilyn Hagerty's review any time just to experience the efficiency of her sentences and the clarity of her judgment.
The menus, as at many chain restaurants, are almost overwhelming. You get a menu for the day. You get a large appetizers menu. You get a lunch or dinner menu.

So, I took the easy route for a late lunch at Ruby Tuesday on Feb. 17. From a single sheet that came with two large menus, I chose baked ravioli ($10.99.) It arrived in a hot—very hot—state, and I approached it with caution.

It was very well-seasoned and laced with spinach and topped with sharp-tasting cheese. With the two dainty baking powder biscuits that arrived promptly, it was a very adequate meal.

And that is what draws me to Ruby Tuesday.
But there is so much more to Marilyn Hagerty who, presumably, was born sometime in the 1940s.
Her curiosity and her irrepressible love for the mundane are heart-warming. You get her fine palate. You get her charming voice. You get a beautiful glimpse at the world of casual dining in middle America.
And that is what draws me to Marilyn Hagerty.
You can just enjoy the company of her grandmotherly prose. Or you can dig deep into her incisive critique of Ruby Tuesday and other Grand Forks, North Dakota eateries.
Her reviews are great to read in the middle of an afternoon. Or you can savor them in the evenings.
Marilyn Hagerty wears a maroon blazer and keeps her hair in a loose bob. She is very likable. It is hard to find any fault with her.
I like the gold frames of her glasses, framing the deep blue of her eyes. I did find the mismatch of her lipstick color and her blazer to be a little disconcerting but, overall, Hagerty is a silver cougar who deserves every bit of the attention she's been getting.
I found the fountain drinks are $2.49, which seems like a going rate in these times. Still, it keeps me on a water course.

I was interested in the tables that look square but have leaves on all four sides that can be turned up to create a round table. The restaurant has appealing art and is tastefully decorated.

Ruby Tuesday seems to me like one of the stars in the restaurant scene in Grand Forks.

It is one of more than 800 similar restaurants worldwide and known for its Garden Bar. The name was taken from Rolling Stones song, "Ruby Tuesday."
I found the advertisement after the first paragraph to be obtrusive, but that's just how the Internet is these days. For now, I just scrolled past it.
I was interested in the bright spherical lights behind Hagerty's head. They produce a pleasing effect, highlighting Hagerty's open facial expression.
Marilyn Hagerty seems to be one of the stars in the local newspaper food critic scene.
Marilyn Hagerty is the only woman named Marilyn Hagerty in Grand Forks. The name Hagerty is Irish in origin. And in the original Hebrew, "Marilyn" means "desired child."
Photo via rstinnett/Flickr (CC BY-SA 2.0)