A magician in England has pulled off the ultimate stupid human trick, convincing someone he's never met before to pay for his parking ticket. 
The magician's name is David Caspian. He's a Bristol native who made the mistake of stopping into a custard factory in Birmingham and parking quite hastily outside of the shop. When he returned, he had a parking parking ticket waiting on his windowsill, one priced at £60, or $71 U.S. 
Caspian's an entertainer, though, and a struggling one at that. He can't exactly shell out that kind of money for something that will award him no goods or materials in return. So he took to eBay in an effort to sell the parking ticket, for its full governmental value, thus having the buyer pay for the ticket instead. 
"I don't dispute either the ticket or my fault but am in a bad financial state and was only stopping at the custard factory in Birmingham to collect half a meter of cloth!" he wrote on the eBay listing. "It destroyed our day and is still worrying me as I'm not sure where to get the funds for this from."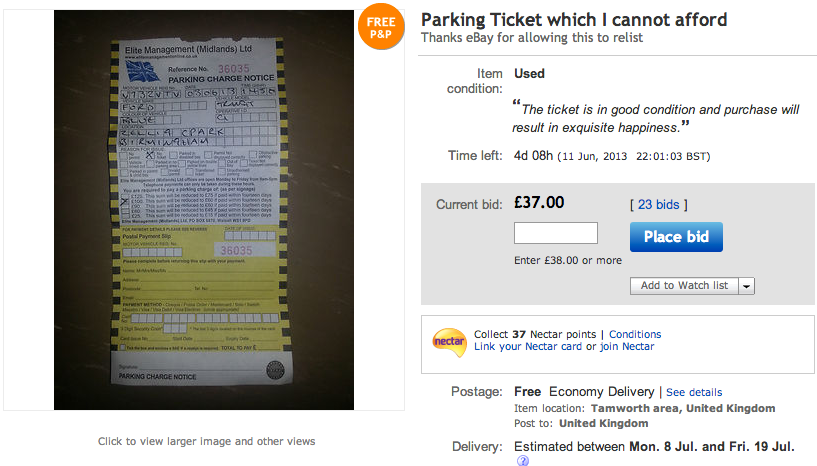 "There must be one person who has done well in life and can relate to this very small horror story who would like to buy it from me and smile for several days knowing they did a great thing. At the same time it would help me (a stranger to you) out enormously. The world is full of darkness and people who are quick to take advantage and whilst this plight is my own fault, it would be a wonderful thing to know that someone out there cared enough about a total stranger to buy this ticket from me."
Evidently, someone exactly like that description exists. Caspian received more than 50 bids for the ticket, with the highest bidder offering £110 ($172 US), $71 more than the ticket's actually worth, but eBay ended up taking the listing down, offering no public explanation for the takedown in the process. 
The ticket made its way back onto eBay Friday morning. 
"This is now being used to raise funds for the Witton family from Luton," he wrote on the revived eBay listing, which lost its many high-priced bids and currently sells for £37. "I am negotiating with Elite Management Lands Ltd. shortly to see if they will donate the cost of the ticket to her cause! I am also opening a page on justgiving.com under EbayParkingTicket for donations."
Caspian's creativity has also rubbed off on another British bloke. Just yesterday, a student posted his own unpaid parking ticket onto the online auction site, adding that he's a student who left university two weeks ago, and he can't afford to pay it. 
"I'm not going to give you a great sob story," he wrote. "I'm skint."
That ticket's currently selling for £99. Is anybody going to be accountable for anything these days?
Photo via Mental Dave/Facebook