The laughing crying emoji, despised by Gen Z, has finally been dethroned as the most commonly used emoji on Twitter. The new top emoji? The loudly crying face. So not that much of a change, then.
While Gen Z's general disdain for the "millennial emoji" may have helped speed the laughing crying emoji ( officially known as Face with Tears of Joy) on to its demise, the Emojipedia blog suggests something else might be to blame. After all, it seems an unlikely coincidence that the laughing crying emoji went into a sudden decline for completely unrelated reasons just when a global pandemic took over the earth.
Especially as the loudly crying emoji's star rose in a statistically parallel way at exactly the same time. Maybe it's just that the people who were prone to crying with laughter via cartoon internet faces are exactly the same sort of people to respond to the setbacks of the last year and a bit with a loud crying face instead.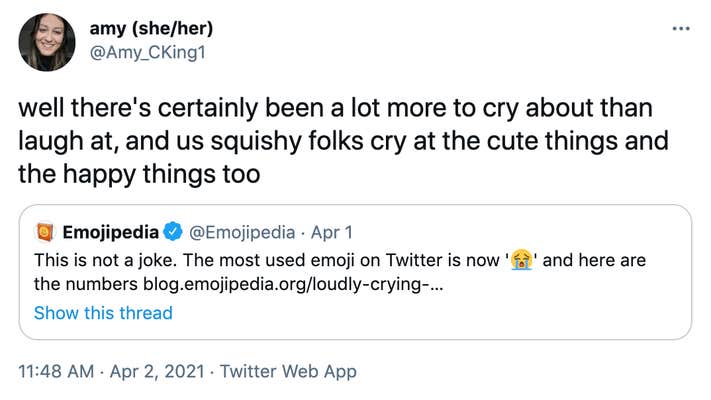 Like its predecessor, the loudly crying emoji can be applied to a whole range of scenarios from the hilarious to the tragic to the absurdly cute. It's just a lot more dramatic (some say melodramatic) and, for the Gen Zers and those desperately trying to seem cool to them, a lot less cringe.