A German soccer legend who holds a number of International FIFA distinctions—among them, the record for most World Cups and most World Cup matches ever played by an individual player—has resorted to Facebook like-whoring in an effort to stay relevant, and maybe make his way back onto the pitch.
Lothar Matthäus, who, for 21 years starred for the German national squad as well as club teams around Germany, Italy, and the United States, has not played competitive soccer in more than 13 years. The longtime midfielder, the first ever FIFA World Player of the Year in 1990, went into coaching in 2000, taking jobs with a number of teams around Europe before retiring from that role in 2011. 
Now, it appears as though the soccer star's stayed away from the game too long. 
Rather than attempt an organic comeback predicated solely on hustle, desire, and personal investment, however, the 52-year-old Matthäus has taken the somewhat peculiar path of asking his fans to like a picture on Facebook. The picture, a shot of Matthäus posing in front of one of his old jerseys, tasks 1 million fans with liking the photo. Once he gets to one million, he says, he will go about attempting his comeback.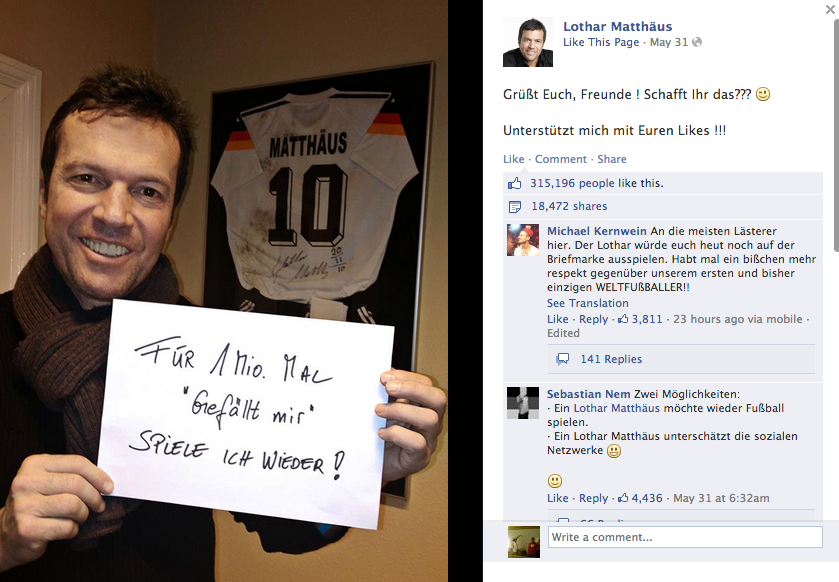 Sounds silly, right? Hey Matthäus, go run around on a field if you feel like it. Don't need Facebook fans for that. 
Matthäus's photo currently has more than 314,000 likes, but it faces steep odds. According to Bleacher Report, the post has hit somewhat of a plateau in the past 24 hours, gaining only 14,000 likes in that time. 
There's no timetable, obviously, but finding 680,000 more likes after the initial run of attention may prove more difficult than Matthäus would like to admit. 
Should the number not be reached, the world will ceremoniously get kept from watching a legendary soccer player, who, again, is 52 years old, tear his hamstring and casually re-retire.
Photo via Lothar Matthäus/Facebook