You may not be the voice of your generation—or even a voice of a generation—but you can sure live like one.
On Wednesday, an opportunity of a lifetime manifested itself in the form of a Craigslist ad advertising a room-for-sublet in the hip (is it, though? maybe five years ago) Brooklyn neighborhood of Williamsburg.
Not only is this place $1,500 a month—and it's in Williamsburg!—but it will also give one lucky person the chance to essentially have the life of a character from the hit HBO series Girls.
"Do you believe that your life represents a commentary on the state of the Caucasian, 20-something, used-to-be-upper-middle-class-but-now-only-sometimes-benefit-from-the-wealth-and-status-of-your-parents demographic?" the ad asks. 
"Well search no further; we have the perfect living experience for you."
So, much like on the show, if you're not white/caucasian, you're out of luck. But it's not a racist thing, just like Lena Dunham totally didn't mean to be racially insensitive when she tweeted a picture of herself wearing a makeshift hijab. 
The sublet also comes with two roommates. The first is a gay man "with a penchant for backhanded compliments." He's also "neurotic, judgmental, and certainly more attractive than you."
And then there's the roommate named Hannah (OMG, just like Hannah Horvath, the main character of the hit HBO series Girls!). Real-life Hannah has "the fashion sense of a homeless kindergartener" who "self-identifies as an 'artist.'"
These two cool cats also offer you an array of fantastical experiences, which include "concerts by local bands that we're only at because we're friends of a friends," "warehouse parties," and "gallery openings that are incredibly meaningful to us on a deep personal level."
And then there's the fantastic location. When we showed the ad to a friend, he replied by saying, "Damn! South 1st and Driggs? I want to live there. It's about 10 blocks away from this great Afrobeat club."
So is the ad serious? 
Well, it's ironic. But it's also legitimate, so it's post-ironic.
You should only apply if you're a "Marnie" or a "Shoshanna" type, or if your full name is alliterative. Jessa-like characters need not apply. Everyone knows that they'll bail midway through the sublet agreement for some ridiculous mission of self-discovery, which, whatever, because she's the worst character on the show.
The Daily Dot reached out to the person behind the ad, but we didn't hear back. Maybe she was too busy writing her e-book.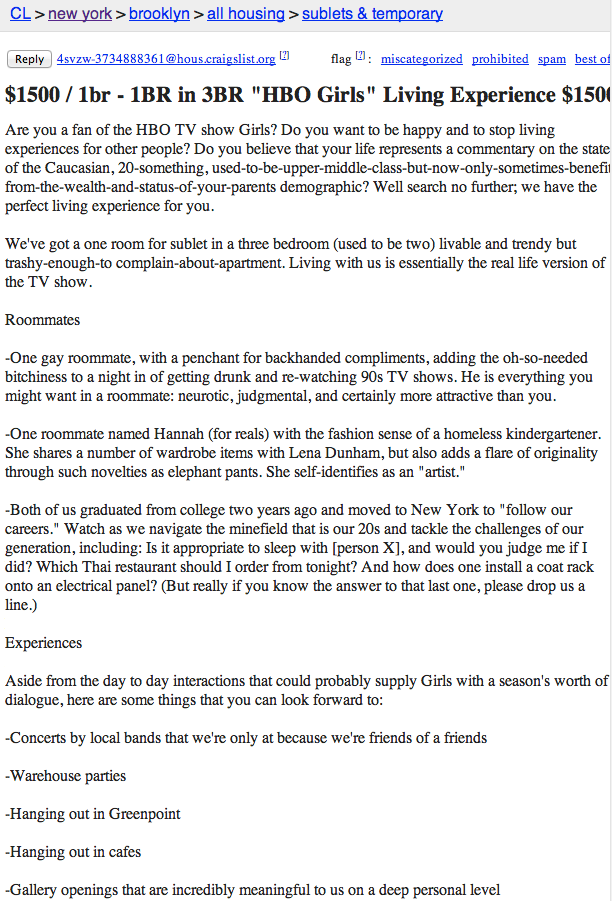 H/T Jezebel | Photo via David Shankbone/Flickr