If you have the chance to tie in a TV show into a tragic story about a real thing, just don't.
Omaha-based news station KETV tweeted a photo to promote one of its stories on Malaysian Airlines Flight 370. Instead of using any one of the photos coming out from press conferences or from Malaysian Airlines officials, the station Photoshopped "Flight 370" onto a promotional photo from Lost.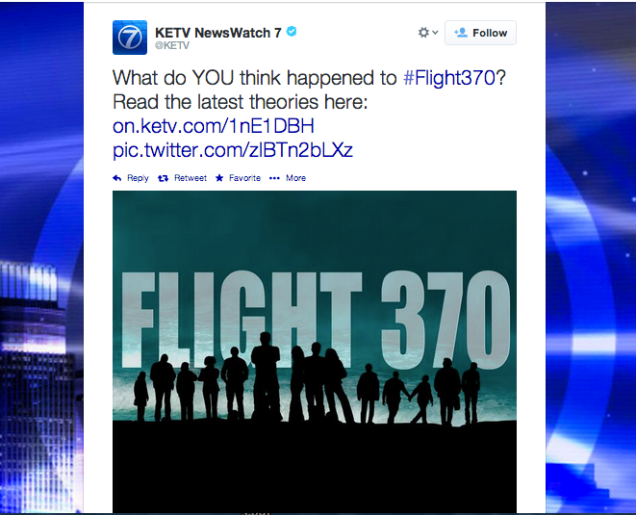 Screengrab via Deadspin
Despite any on-the-surface similarities anyone might have noticed between Lost and MH370, there's one glaring difference between the two. Lost is a fictional television show with polar bears, smoke monsters, and mysterious deities on a tropical island, while the 239 people on MH370 are still missing or likely dead. Their families and loved ones are distraught with grief, and authorities are no closer to finding the plane or any remains in the Indian Ocean almost two weeks after it disappeared.
Even comedian Paul Scheer, who hosted the Lost 10-year reunion panel at the Paley Center Sunday night, asked the audience to refrain from asking the show's creators and actors about MH370.
KETV deleted the tweet sometime after it was posted and has yet to comment on it.
H/T Deadspin | Photo via Doug Kline/Flickr