Dating sims are yet to hit big in the U.S., but they're hugely popular in Japan. Combining text adventure game format with teen romance novel plot lines, a dating sim lets you game your way to a romantic relationship with another character. Any character. Even a dinosaur. 
Often reliant on anime storyline tropes, dating sims are popular with young teenagers (although, ahem, there are plenty of adult-rated games available). New online dating sim Jurassic Heart follows a typical storyline of a nervous high school student going on a date with her crush. But there's one significant difference. Her crush is a Tyrannosaurus rex.
Complete with a cheesy soundtrack, Jurassic Heart is a pretty simple example of the visual novel/dating sim genre. The player's first storyline decision is easy enough: "Let's see, which hair clip shall I go for?"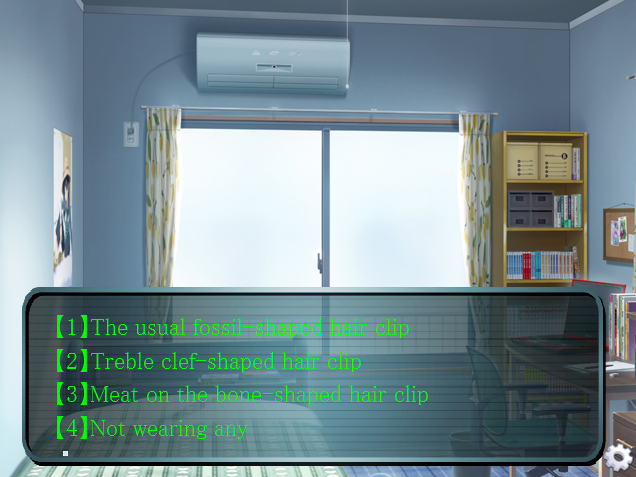 I picked the "meat on the bone" clip on the assumption that my date (to reiterate: a carnivorous dinosaur) might find that the most appealing option.
In Jurassic Heart, you take the T-rex (nicknamed "Taira") on a date to the music store to buy a ukulele. You see, there was an incident at music club when you startled Taira and made him drop his old ukulele, and you feel kind of guilty about it. Did I mention that you and Taira go to the same high school? Just go with it. There is no explanation as to why a T-rex attends a human school, much like how there's no explanation as to how he managed to tie his necktie (the only item of clothing he wears) with such stubby arms.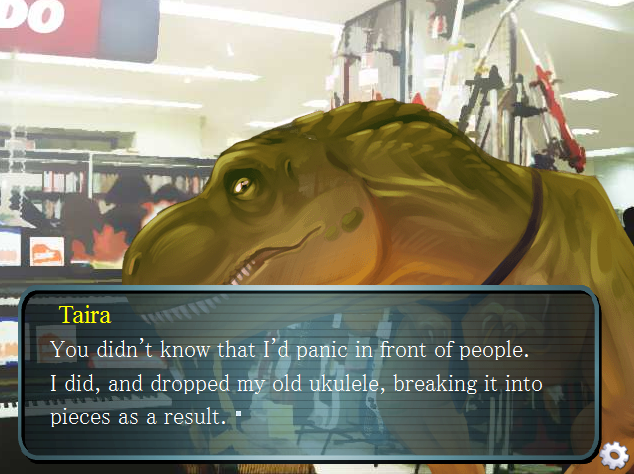 If you play your cards right, you and Taira leave the music store with a new ukulele, and Taira invites you to go to the park with him. He's a little shy, but after a while he explains that he has some self esteem issues. Back in middle school he dropped his first ukulele halfway through a concert, and people laughed at him because he couldn't pick it up.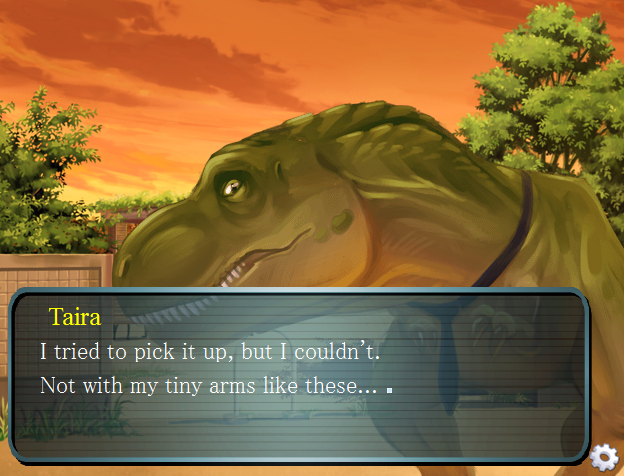 For a T-rex, Taira is surprisingly sensitive. I was expecting my meat-flavored hair clip to inspire him to go on a murderous rampage, but in the end he just complimented me and told me about his feelings.
We wouldn't want to spoil the story too badly, but if you're supportive of Taira's insecurities, you will eventually get to see him play his beloved ukulele.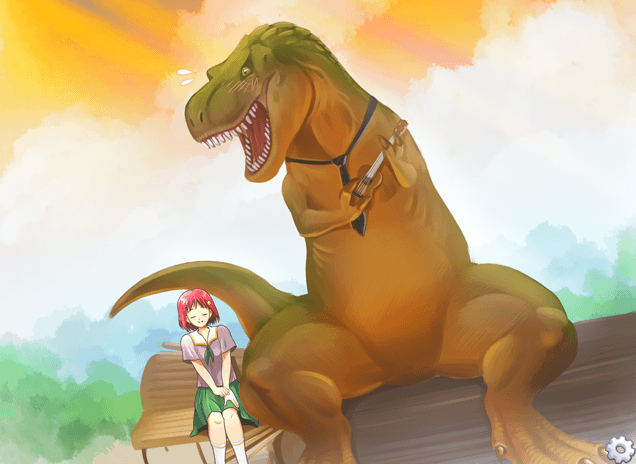 Amazingly, this isn't the weirdest dating sim available. Hatoful Boyfriend, which features a high school full of talking pigeons, has a cult following due to its surreal adherence to normal (well, normal-ish) romantic scenarios in the face of… well, giant, sentient pigeons.
Jurassic Heart has only been online for a couple of days and it's already winning over tens of thousands of Tumblr users, and even inspiring some romantic T-rex fanart. But according to its co-creator Hima, the game's success was a complete accident. The idea came from a game design tool called TyranoScript, which inspired them to write a storyline about dating an actual Tyrannosaur. Still, fans of Taira will be glad to hear that Jurassic Heart's creators may work on a longer game with five dinosaurs to choose from. 
All images via Jurassic Heart