After Fox's hit show Glee apparently used musician Jonathan Coulton's arrangement of a song without his permission, JoCo fans are uniting against Glee and hitting the show right where it hurts: the iTunes review pages.
Fans have taken to the iTunes page for Glee's version of "Baby Got Back" and left almost 2,000 one-star ratings and negative reviews on the page, Kotaku reported.
Most of the reviews shamed Glee for using Coulton's cover of the classic Sir Mix-a-Lot jam without permission, and voiced support for the artist while downvoting anyone who reviewed the song favorably.


Coulton first told fans on Jan. 18  that the show copied his version of "Baby Got Back" without notifying him beforehand. He is still looking into possible legal action against Fox after voicing his suspicion that Glee stole not just his arrangement, but parts of his actual recording.
It took nearly a week for Glee to respond to Coulton, and once they did, they said that that it wasn't their usual policy to give credit for covers of covers. He then released a cover of Glee's cover for charity, which quickly shot up the iTunes charts.
Meanwhile, the fans have flooded Coulton's iTunes page for "Baby Got Back (In the Style of Glee)," a song he released this past Saturday for charity—which also happens to be an exact copy of the recording Glee allegedly ripped off—with glowing five-star reviews and snarky comments towards Glee and Fox.


However, some fans remained conflicted. Some admit that Glee used Coulton's version of "Baby Got Back," but still love the show, and others agree with Fox's argument that Coulton should be grateful for the exposure.
"I thought this was [sic] s very cute version of the song. I wasn't aware of a second version of the song, so have ended up buying multiple copies of a song I didn't even know," Tredaor wrote.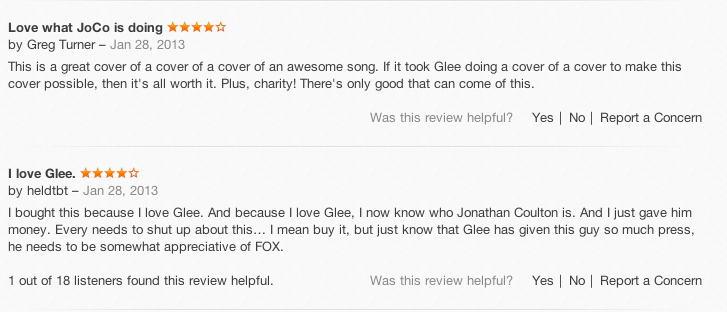 Unsurprisingly, these reviews have been mostly been marked "unhelpful" by fellow customers.
Photo via nickstone333/Flickr