Everyone knows not to trust a fact on Wikipedia, a site that anyone can edit, and who don't need to list their sources when they do. But sometimes, a contribution to a Wikipedia page is so great that you want to believe it's real, even if it sounds fake.
This week, an entry on the Wikipedia page for the 1993 animated film We're Back! A Dinosaur's Story went viral on Twitter. The page quoted John Malkovich, once attached to the film, as saying that the film was "sub par, to say the least."
The entry continued:
In a rare 2003 interview, Malkovich made a brief allusion to the movie, saying, "Good ideas go to die in Hollywood. I worked on an animated movie about dinosaurs in New York once. It was completely bureaucratized. They took something that had art in it and put it in the laps of people that only cared about the bottom line, and look what happened." In a later portion of the interview, Malkovich went on to say, "Yeah, projects like We're Back: A Dinosaur's Story-they just make you sick. That's why I left this town. It's all about the money, the bottom line. It's disgusting."
The end of the section included a telling note: citation needed. There was no link to the alleged 2003 interview where Malkovich said these negative comments about Hollywood and an animated film about dinosaurs.
Newsweek writer Emily Gaudette tweeted out a screenshot of the section on Tuesday:
Wikipedia makes the un-sourced claim that John Malcovich has maintained a lifelong deep hatred of the animated film "We're Back: A Dinosaur's Story", saying it's "why he left this town" pic.twitter.com/3stG4f8v5o

— Emily Gaudette (@emilygmonster) October 18, 2017
More than 12,000 people liked this tweet, and it received more than 100 replies. People wanted to believe it was real. It almost sounds like some off the cuff comment Malkovich would say in an interview.
His fans started speculating about who added the quotes in the Wikipedia entry:
My head canon is that John Malcovich himself added those bits to the entry

— Jeff Bachtel (@jeffbachtel) October 18, 2017
Quoting John Malkovich

— Nathaniel Woodward (@stubhubby) October 18, 2017
The section was removed on October 17 shortly after the tweet. A Wikipedia user who goes by the name NorthBySouthBaranof deleted it and added the comment, "Don't reinsert until it's reliably-sourced."
A user tried to reinsert the section, and NorthBySouthBaranof deleted it again. Now, under the production section, there is a new reference to Malkovich, with a citation: "The film was originally promoted with John Malkovich listed alongside Cronkite, Goodman, Child, Leno and Short, but he did not appear in the final version."
So, is the Malkovich quote fake? Probably. We couldn't find any 2003 interview in which Malkovich discussed We're Back! A Dinosaur's Story. The giveaway is the "rare" part—Malkovich has given dozens of interviews. Malkovich's publicist did not respond to a request for comment for this story.
The Malkovich quotes were not added recently. A Wikipedia user added them in March of 2014, and people previously shared the unattributed section on Twitter.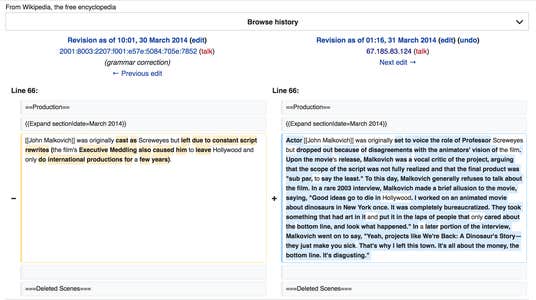 Yo, John Malkovich friggin' hates We're Back: A Dinosaur's Story pic.twitter.com/HLzZbD57GK

— Jacob deNobel (@Jacob_deNobel) February 27, 2017
But this story gets weirder. Other people have noted that the exact quotes were added to the Wikipedia page for A Kid in King Arthur's Court—and attributed to actor Sean Penn. That section was also deleted. So someone is going around and adding strange quotes to the Wikipedia pages of children's movies.
Hmmmmm pic.twitter.com/nD7yzvukDy

— Roy (@holeymolars) October 18, 2017
The quotes were left up on the Wikipedia page for We're Back: A Dinosaur's Story for more than three years before someone decided to take them down. Maybe Malkovich saw the fake quotes and was amused by the whole thing. Maybe he didn't even notice. We'll never know his true feelings about the animated film until he gives a real interview on it.