Houston Texans defensive end J.J. Watt has to be the most social media savvy good samaritan in the history of American football.
The herculean defenseman, who last year registered 20.5 sacks for the AFC South champion Texans, once again showed his penchant for paying attention to his most adoring fans, taking time out of his training schedule to meet with a fan named Itzy Cagen—the longest surviving quadriplegic on a ventilator in the entire world—after the his nurse Eran Melnik posted a message onto Watt's Facebook page.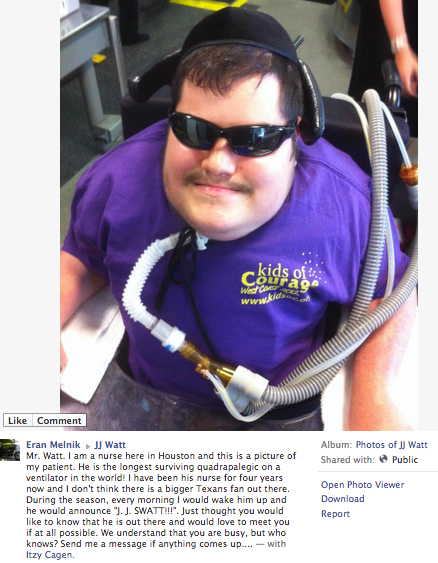 The post actually hit Watt's Facebook page in January, attracting a groundswell of attention. Even beloved comedian Jenny Johnson tweeted the nurse's request out to her followers. On May 13, Watt posted a long-awaited reply: "This will happen."
On Monday, Watt and Cagen found time to meet and hang out together, hitting up a Texans merchandise shop and taking a tour of Reliant Stadium, where Watt plays every Sunday. Melnik, who joined the two, posted a photo to Watt's Facebook page the next day, along with a message: "Thank you so much JJ Watt for taking the time out of your busy schedule to make Itzy extremely happy!!"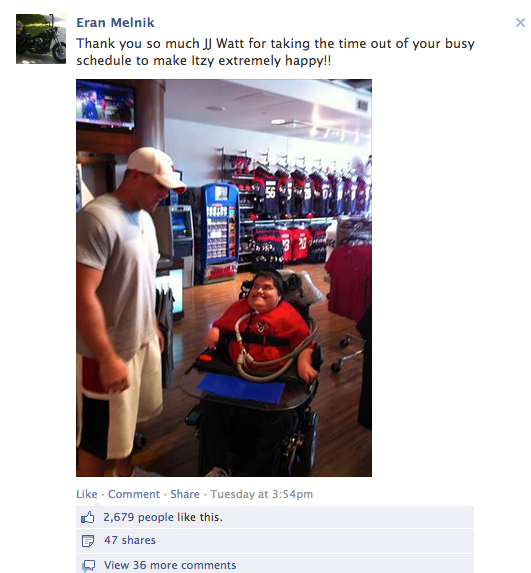 "It was my pleasure," Watt tweeted after Cagen's brother posted another thank you onto Twitter. "Hope he enjoyed it."
This is hardly the first time that J.J. Watt has come to the rescue of a fan soliciting his attention on social media. In January, he surprised a 6-year-old girl who, sobbing in a YouTube video, lamented the fact that she would never be able to marry Watt. The video went viral. Watt showed up to the hotel where she was staying and asked her to marry him. 
Photo via Danny Cagen/Twitter