A new deepfake video has emerged that replaces actor Jack Nicholson with comedian Jim Carrey in the iconic 1980s horror film The Shining.
Developed by deepfake creator Ctrl Shift Face, the video seamlessly places the face of Carrey onto that of Nicholson's with the aid of artificial intelligence.
Speaking with the Daily Dot, Ctrl Shift Face explained why he chose to put Carrey inside the horrifying world of director Stanley Kubrick's film, based on the 1977 novel by author Stephen King.
"I've always thought Jim Carrey would be an interesting cast for The Shining," he said. "It's quite interesting to put a primarily comedic actor in such a serious and dark scene."
Despite the fact that the two actors are known for very different roles, fans of Ctrl Shift Face on YouTube noted how perfectly Carrey blended into the psychological thriller.
"The weird thing is that with Jim Carrey's face, even the mannerisms and way he acts feel really like how Jim Carrey would move," one YouTube commenter said. "Kinda eery."
The deepfake creator's fans are responsible for the video coming to life after voting to have it made on Ctrl Shift Face's Patreon account. "I had three ideas and made a poll to let my fans vote," Ctrl Shift Face said. The Shining clip won out over scenes that would sub Tom Cruise into American Psycho and Keanu Reeves into The Room.
Once the voting was over, Ctrl Shift Face got to work gathering video clips of Carrey's face to feed into DeepFaceLab, a popular deepfake program available online. The deepfake program uses artificial intelligence to learn the details of an individual's face to then superimpose it onto the face of someone else.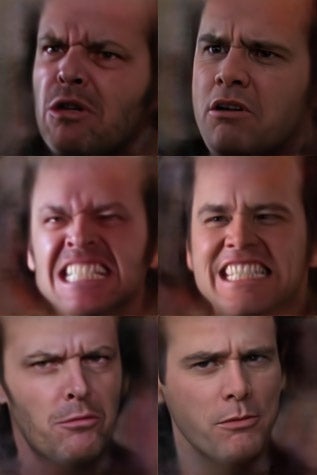 Ctrl Shift Face says the entire project took around three to four days to complete. The deepfake creator even uploaded his Jim Carrey dataset, a collection of the images of Carrey's face used in the making of the video, to YouTube. The video shows just how much visual data is necessary to make a convincing deepfake.
Where other deepfake creators might take shortcuts, Ctrl Shift Face is purposely selective with what videos he releases in order to account for the high quality of his deepfakes, and it's garnered the videos millions of views online. A video placing the face of actor Arnold Schwarzenegger onto comedian Bill Hader has racked up nearly 7 million views on YouTube alone.
But Ctrl Shift Face is not yet done with Carrey and The Shining. The creator has already finished another deepfake available only to his Patreon supporters that shows Carrey superimposed onto Nicholson's character while he's talking to Lloyd the bartender.
The next clip to be released to the public will be Carrey in the infamous scene where Nicholson's co-star Shelley Duvall is forced to grab a baseball bat to keep her psychotic husband at bay.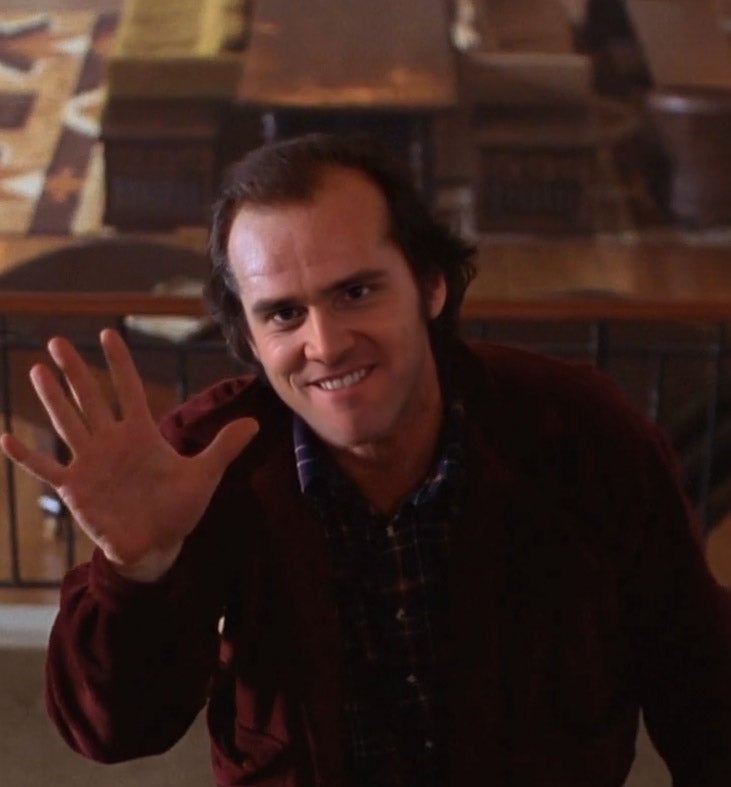 And before you ask, yes, the famous "Here's Johnny" scene in which Nicholson utters the famous catchphrase used by Ed McMahon during The Tonight Show Starring Johnny Carson is also in the works.
Knock knock!
Who's there?@JimCarrey #TheShining #Deepfake pic.twitter.com/nIuqQGpxzR

— Ctrl Shift Face (@ctrl_shift_face) July 6, 2019
While the technology continues to make headlines for its comedic and artistic applications, lawmakers have raised concerns over its potential for, among other things, spreading disinformation. Politicians have begun introducing legislation over fears that such techniques will be used–or rather, continue being used–to place unwitting victims in compromising videos.
READ MORE:
Got five minutes? We'd love to hear from you. Help shape our journalism and be entered to win an Amazon gift card by filling out our 2019 reader survey.