If you try to imagine what launched a Chinese social media trend so disruptive it spurred a government crackdown, a giant inflatable toad probably won't be high on your list. Yet that's what happened over the weekend, after Chinese citizens ridiculed a 72-foot-tall inflatable toad that had recently been installed in a Beijing park and likened it to the country's former president, Jiang Zemin.
As the meme spread across the Chinese social media site Sina Weibo, comparison photos showed the stony-faced Jiang, who served as president from 1993 to 2003, next to the friendlier-looking, now-bespectacled toad sitting in Beijing.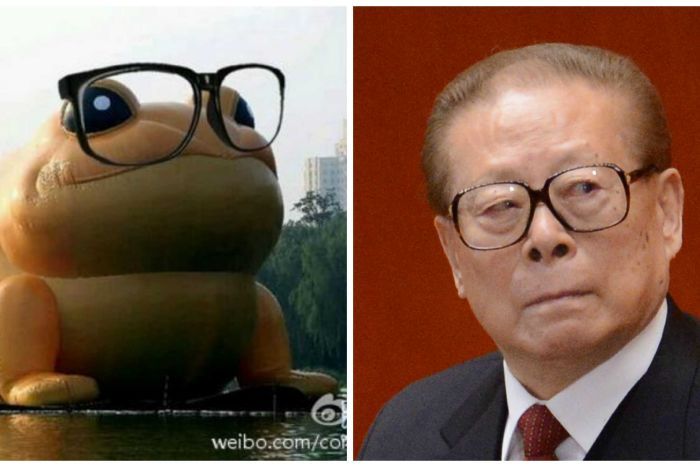 Image via Sina Weibo/ABC
The government responded quickly to the affront against Jiang, who is still an influential figure in the Communist Party of China. The Xinhua news agency and many other major news websites removed their stories about the installation of the toad, according to the BBC.
This is only the latest incident of giant inflatable animal censorship. Last year, the government cracked down on Web activity related to a large inflatable duck that had been placed in Hong Kong's harbor. The duck had become a flashpoint for anti-government protesters: Weibo users had been circulating a Photoshopped image of the Tiananmen Square "tank man" standing in front of a row of rubber ducks to mark the anniversary of the demonstration.
Despite the response from Chinese government toadies, a spokesman for the Beijing park where the inflatable creature resides told AFP that the toad will stay where it is.
There has been no word on what former President Jiang thought of being compared to a toad, which is considered a symbol of good fortune in Chinese culture.
Image via Charles W. Clark/Flickr via (CC BY 2.0)