YouTube announced the first annual Comedy Week last month, looking to bring together the who's who of comedy online to "the home of comedy for the next generation." Taking the biggest YouTube stars and some of the biggest comedians in television and film, they would collaborate and produce content throughout the week, all starting with the live-streamed Big Comedy Live Show on May 19. Even Arnold Schwarzenegger wanted you to watch.
What could possibly go wrong?
The problem became apparent within the first few minutes of the Big Live Comedy Show's three-and-a-half-hour broadcast—about as obvious as an abrupt jump cut.
Former SNL cast member Jenny Slate and YouTuber Kassem G hosted the kickoff to YouTube's first annual Comedy Week. They introduced comedian Norm Macdonald, who struggled to read off the names of some of the YouTube stars that were set to appear in the Big Live Comedy Show. He clearly hadn't heard of the acts; even before Macdonald read the names off his paper, we heard Kassem G off-camera: "What a disaster."
"I feel like Todd [Glass] will be struggling to know these people," Macdonald said before throwing a sarcastic zinger towards Epic Meal Time host Harley Morenstein.
There were many other things that went wrong with the Big Live Comedy Show. As YouTube and mainstream comedians came to play together, it all came to a head.
YouTube has a Hollywood problem.
In the past couple of years, YouTube has shown interest in becoming more like television. It has invested in professionally produced original content with the Google Initiative, and just launched paid subscriptions. While many musicians already had an official YouTube channel to promote their music (usually through VEVO), the $100 million investment gave celebrities the chance (and the money) to create their own content—albeit with mixed results.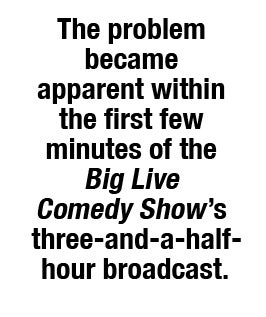 YouTube and Hollywood co-existed on the site until it came time for online awards season. The Streamys aired online in February, and paired YouTube stars with mainstream celebrities for the same awkward, scripted banter you watch on TV. Only more often than not, the show couldn't decide which tone it wanted to take.
As Hank Green put it, the Hollywood types wondered why they were pretending Web video was a big deal, while the people who made the content wondered why everyone wasn't having more fun.
The stigma against YouTubers by traditional Hollywood isn't limited to just the award shows. Jenna Marbles, who currently has the second most-subscribed channel on YouTube, was subjected to a condescending interview with Good Morning America in which the interviewer critiqued Marbles' videos "about nothing" and questioned if she deserved her success. What started out as as a "fun" segment for GMA resulted in a massive backlash from her subscribers, fans, and fellow YouTubers.
After Macdonald's misstep at the Big Comedy Live Show, the event took on a similar narrative to the Streamys. The stars may not have been handing out awards for online video, but YouTubers were simultaneously praised and mocked for their success. Traditional stars couldn't decide if YouTube was inferior to traditional formats or if it was the future of entertainment. The YouTubers watching at home were not impressed.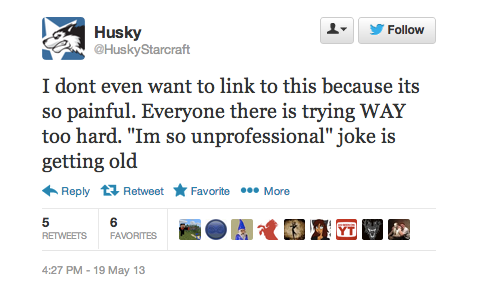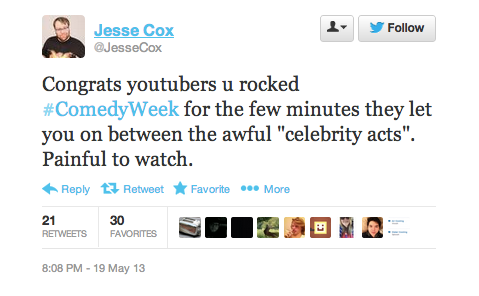 Later in the show, Morenstein managed to turn the tables on Todd Glass with a few jokes that made the audience laugh more than Glass did.
"I'm getting roasted by an Internet chef," Glass noted.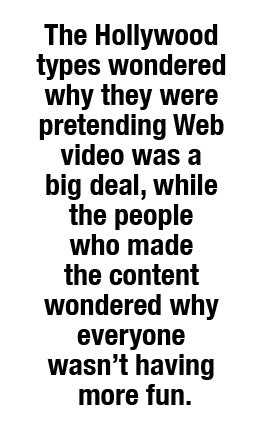 Many of the celebrities featured on the Big Live Comedy Show have tried their luck with YouTube. Macdonald hosts his podcast there. The Lonely Island has one of YouTube's funniest videos ever (according to YouTube, anyway). Sarah Silverman, Michael Cera, Reggie Watts, and a number of other comedians came together to start JASH. And Amy Poehler, Ashton Kutcher, Shaquille O'Neal, Stan Lee, and many others received funding through Google's $100 million investment.
However, all these projects have proved that celebrity isn't everything when it comes to producing online content. Most of them have had only so-so success online, especially compared to the channels run by established YouTubers. Many of them had even less success than that, showing that they don't know a thing when it came to making content for the web.
Two of the more popular channels funded by Google, Geek and Sundry and Nerdist, are run by Internet-savvy celebrities. Felicia Day found success with The Guild, Dr. Horrible's Sing-along Blog, and stints on TV while Chris Hardwick has a popular podcast and TV shows on three different networks.
Both of their careers haven't been tainted by the overlap of their work in either sphere: traditional or online entertainment. More likely, it's opened doors. And most importantly, they've created content that they're personally interested in, and that they know their audiences will watch.
That sensibility is similar to the way YouTubers interact with the site. They've worked at their craft and interacted with their audience for years. They love what they do, and eventually they were able to get paid to do what they love.
It's possible for Hollywood to do YouTube right. But it won't be be half-assing it and expecting the viewers (and the revenue) to come rolling along for the ride just because of who they are.
This is not about going viral or making a buttload of money. It's about creating a community and getting a message across. And until Hollywood understands that, they won't make it far in the YouTube biz.
Photo via YouTube/YouTube