Jared Kushner, the president's son-in-law and one of his most-valued advisers, is registered to vote as a woman in New York, according to a Wired report.
Kushner—who reportedly has been using a personal email account for government business and who is under investigation for possibly colluding with Russia—is registered with the New York State Board of Elections, and according to its records, Kushner marked his gender as female.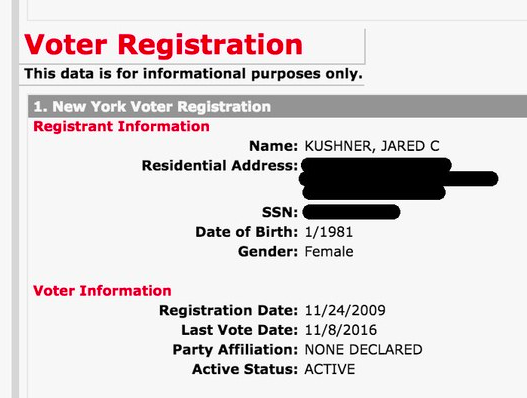 Assuming Kushner voted in the 2016 election, then he would have voted as a woman.
It's most likely a simple mistake, where Kushner would have checked "female" instead of "male" when he turned in his registration form on Nov. 29, 2009. Or a mistake could have happened when it was processed.
This, however, isn't the first time Kushner has had a tough time with paperwork. When he originally turned in a government questionnaire to gain a top-security clearance, he omitted the dozens of meetings he took with foreign leaders. Kushner said it was a mistake, and he resubmitted the paperwork at least twice more.
"Kushner can't even fill out the most basic paperwork without screwing it up, so it's a mystery why anyone thinks he's somehow going to bring peace to the Middle East," Brad Bainum, a spokesperson for the liberal opposition research group American Bridge, told Wired. "Would anyone but the president's son-in-law still have a West Wing job after repeated disclosure errors and a botched a security clearance form?"
Not surprisingly, Twitter delighted in Kushner's newest mistake.
The most powerful Jewish woman in America. https://t.co/R56pd1TbjR

— Steve Koczela (@skoczela) September 27, 2017
https://twitter.com/MNateShyamalan/status/913076638870622208
Even worse for Kushner: He became the focus of the #jaredsdragname hashtag.
The Lady Chablis! #jaredsdragname

— Ariel Gonzalez (@ArielGonzalez_1) September 27, 2017
Champagne Popsickle #jaredsdragname

— Living in the Upside Down (@TPVerity) September 27, 2017
Fellatia d'Cash #jaredsdragname

— the sobsister (@thesobsister) September 27, 2017
Shaneeda Lawyer. #jaredsdragname

— Michael Grubbs (@StealthyMG) September 27, 2017
#jaredsdragname flaccid ivory

— Steven, someone else made me do it (@FullTimeNYDad) September 27, 2017
Rev. Runt pic.twitter.com/GChNpmWi83

— David Sullivan (@dvdsly6) September 27, 2017
Meanwhile, the Donald Trump voter fraud committee continues unabated.