Instagram's updated terms of service (ToS) contain several points that are making users threaten to delete their accounts.
After the new agreement comes into effect Jan. 16, Instagram can start making money from your photos. Instagram said it "may be supported by advertising revenue." To that end, it stipulated:
To help us deliver interesting paid or sponsored content or promotions, you agree that a business or other entity may pay us to display your username, likeness, photos (along with any associated metadata), and/or actions you take, in connection with paid or sponsored content or promotions, without any compensation to you.
Essentially, anything you do on Instagram from mid-January (the terms won't apply to your Instagram usage before that date) can be used in advertising. Instagram doesn't have to tell you when it's used your data in ads and it doesn't have to pay you for the privilege. There's no way to opt out—save for deleting your account and photos.
What's more, Instagram, which says the new ToS will help it fight spam and abuse, won't make a distinction between users based on their age. If you're under the age of 18 and use Instagram, you are agreeing that your parent or guardian is giving you permission to use your photos, likeness, and username in ads. (You need to be 13 or older to use Instagram.)
Instagram's owner, Facebook, runs social ads based on what you and your friends do. It might promote pages you've liked to your friends.
If you've linked your Facebook account to Instagram, there's a treasure trove of data that Facebook can mine about you. It knows not only what you like and which pages you interact with, but also where you've been and what you take photos of. That kind of information is of great interest to advertisers.
Instagram's move seems to be all about making ads more relevant to you and your interests. After all, there's no point in Instagram or Facebook showing you an ad if there's zero chance you'll click on it. If they know more about who you are and what you're interested in (by looking at your geotags, comments, and what you've taken photos of), Instagram and, by extension, Facebook can serve up ads more attuned to you.
It's important to note that you still retain copyright on your Instagrams and own everything you post. By sharing photos there, you're granting Instagram a license to do whatever it wants with your images within the limits of the ToS.
Photo by DJCrunchtime
It was an inevitability that Instagram, whether or not it remained independent, would have to start making money at some point, through ads or otherwise. It's all well and good having more than 100 million users, but if you can't keep the lights on, everyone's gotta go home.
It's far from the first photo-sharing service to loop in such terms. TwitPic, a popular way of sharing photos to Twitter, became one of many photo-sharing companies to try to make money off your photos when it changed its ToS last year. Facebook and LinkedIn have similar ToS to that of Instagram when it comes to those companies' rights to use what you share.
Yet snapping a photo of something is far more intimate than liking a page on Facebook. It's something you've personally experienced and will more often than not will be of something or someone you love. That Instagram will cash in on your photos and work in creating them is a bone of contention for many.
Many Instagram users have threatened to quit Instagram over the new ToS. Others claim they'll delete their Facebook accounts, too, if the move isn't reversed.
"If you (@instagram) + @facebook do not retract the offending language in the TOS I will delete my acct & urge ALL friends to do so as well," tweeted Chris Davis.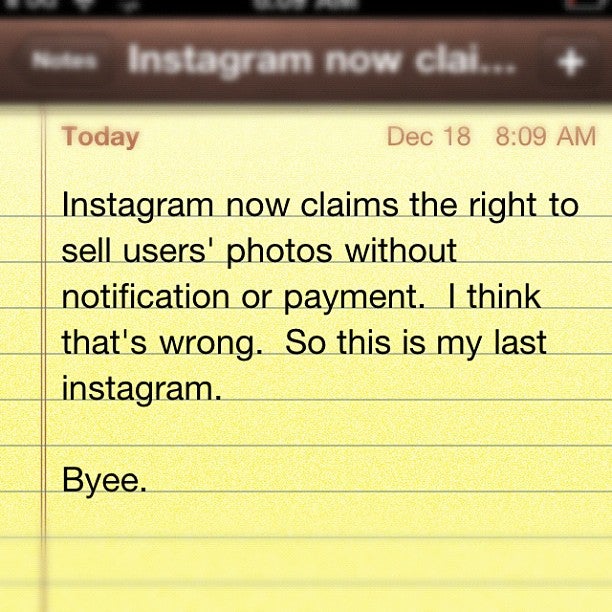 Photo by @bubbahnerd
One can't imagine that it would take too much effort for Instagram to offer a premium service, where you could pay a dollar or two a month to use Instagram as you always have—and block it from using the photos you've shared.
As it stands, there's only one way out: deleting your account and photos. Several services, like Instaport and Instagram Downloader, let you back up your photos (probably a good move in any case; Instagram notes in its ToS that it should not be used as a backup service for your photos).
In November 2010, just a few weeks after Instagram launched, Instagram CEO Kevin Systrom reportedly commented that "Your photos will remain yours and yours only!" That might still be technically true, but ad companies now have the right to use them as well.
Photo by JeepersMedia/Flickr