Since breaking out as the star of this year's Academy Awards, Kenyan actress Lupita Nyong'o quickly became the Internet's sweetheart, the reigning "It Girl" of the blogosphere. Nyong'o has been the subject of adoration for her Audrey Hepburn-like poise and her "radical, world-changing style," seemingly a one-woman revolution. The world is Nyongo's oyster, and everyone wants to know "what's next" for the beloved 31-year-old.
Although Ms. Nyong'o got her Oscar fairytale, The Daily Beast's Kevin Fallon suggests the reality might not be so romantic.
"Compounding the ambiguity over Nyong'o's future is the fact that there are few actresses, if any, to point to in Hollywood that exactly fit her mold, whose careers we could see her following to a T," Fallon writes. "We have no barometer for measuring what in the world is next for Lupita Nyong'o."
In order to make it in Hollywood, Lupita Nyong'o would have to be as trailblazing in film as she is on the red carpet, rewriting the rules. Changing the system is a lot of pressure for a seasoned vet like Cate Blanchett, let alone someone fresh out of Yale Drama School.
A recent keynote speech from Lena Dunham at the South by Southwest festival in Austin shows that Nyong'o may have her work cut out for her. As Dunham explains, Hollywood isn't great at creating parts for any kind of young woman—whether black or white. Although her Girls co-star Adam Driver has nabbed a number of high-profile roles in recent years (between Inside Llewyn Davis, Frances Ha and the Star Wars reboot), mainstream Hollywood success has yet to find the girls of Girls.
Dunham said that her female co-stars have yet to have the opportunity to prove themselves "in the same variety of diverse roles." According to Ms. Dunham, Zosia Mamet only gets offered "flighty hoodnicks" and Alison Williams is relegated to "All-American girl" roles. Dunham argues that the divide is indicative of "a world where women are typecast and men can play villains, Lotharios and nerds in one calendar year."
A new study from Martha M. Lauzen showed that only 15 percent of top movies star women, and this situation is especially dire for black actresses, for whom there are even less opportunities than Dunham's cohort.
For reference, let's play a game: How many well-known young black actresses can you name, the kind of people who have the same wide recognition as, say, Scarlett Johansson or Natalie Portman, someone almost anyone on the street would know? Can you name five under 35? What about ten? Even one?
If you named Kerry Washington, you're out of luck. She's 37.
Along with Nyong'o, Washington is the reigning black female A-lister, whose role on Scandal made her into a household name seemingly overnight. But Washington didn't come out of nowhere. Ms. Washington has been working in the industry for almost twenty years, making her way up through small supporting parts in Save the Last Dance, Mr. and Mrs. Smith and Fantastic Four. In many of her pre-Scandal roles, you might miss her if you blink too hard.
Her strong performances begged for bigger opportunities, but those didn't come until producer Shonda Rhimes took a chance on her, forcing the networks to air a nighttime drama starring a black actress.
But the problem is that little has changed since then. If you need evidence, check out her IMDB page. Before becoming Olivia Pope, Washington played supportive girlfriends (Lakeview Terrace), sassy black friends (Save the Last Dance) and hot bombshells that wanted to break up Chris Rock's marriage (I Think I Love My Wife). Since then, she's played supportive girlfriends (Peeples) and slaves (Django Unchained). In the latter movie, she barely had lines.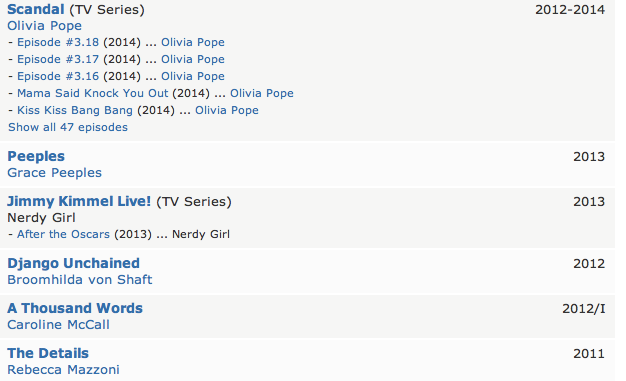 Like Washington, there's a reason why awards-caliber black actresses like Angela Bassett, Halle Berry, Viola Davis and Octavia Spencer are moving to television: Film doesn't make room for them.
Although Bassett can become a gay icon on American Horror Story, she's all but a ghost on the big screen. Since her memorable role in Stella Got Her Groove Back, it's difficult to remember any movies she's been in. (Gospel Hill, anyone? Mr. 3000?) In the past fifteen years, she's played a doctor five different times, a step up from Halle Berry's slew of nurses and mental patients. But Bassett's career won't be allowed to find its groove again unless she's allowed the same diversity of parts as everyone else.
Hollywood is having a very hard time leaping over the very low bar set for black actresses in the industry, and Dunham's own Girls is a perfect indication of that. In a recent episode of Girls, Lena Dunham's Hannah met with a new publisher about her book, played by the fierce Marsha Stephanie Blake. Before appearing on the show, Blake's resume was filled with bit parts as slaves, secretaries, nurses and (jackpot!) vampire nurses. A lot of the time her character isn't important enough to have a name (she's simply called "Vampire Nurse," for instance) and she doesn't have one in Girls either. IMDB merely bills her as "Publisher."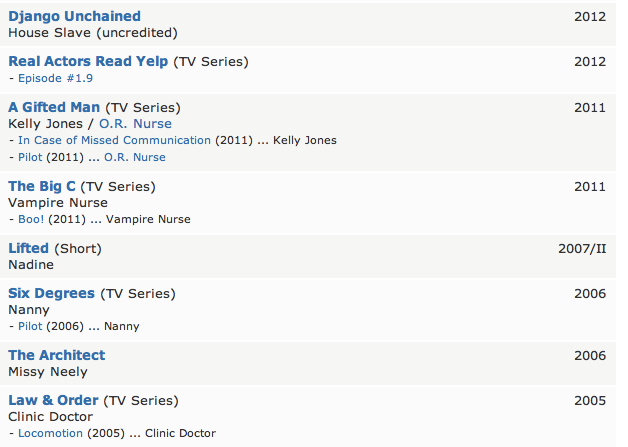 What's sad is that an unnamed character can feel so strangely unique. Blake gets to play a high-powered business woman in an industry where it's rare that black women are even onscreen. What unites Blake, Washington, and Nyong'o is that not one of them has a single film project in development. It's not that they aren't getting to play nannies and nurses; they aren't getting any roles at all. How can someone like Blake break out if there's nothing for her to break out to?
In asking whether Lupita Nyong'o's Cinderella story will continue, we're likely positing the wrong question. In Hollywood, we should be wondering if she'll be allowed to go to the ball—whether she has to stand in the back or if she even gets a ticket at all. Nyong'o might be our It Girl and the reigning queen of the fashion world. However, it'll take more than one person to make Hollywood recognize the beauty of black girls, a cause for which Nyong'o has been a vocal advocate. Because as far as the industry's concerned, black women are still invisible.
Viola Davis photo by ellasportfolio/Flickr (CC BY 2.0), Halle Berry photo by brava_67/Flickr(CC BY 2.0), Angela Bassett photo by thehearttruth/Flickr (PD) (remix by Jason Reed)