The problem with second-guessing a high-dive jump is there's usually another diving board seven feet below you. If you don't get a good grip on the railing, you're bound for an awful fall.
That's the hard truth one summer swimmer discovered earlier this month at the Lava Hot Springs water park in Idaho. 
Fortunately, it doesn't look like the lady gets hurt too bad; she springs right up to swim away. But: scary fall. We GIF'd it for future reference.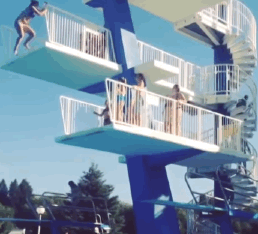 H/T Daily Mail/Gawker | Photo via Katie Jorgensen/YouTube