Leave it to Reddit to find someone who experienced all the poop firsthand.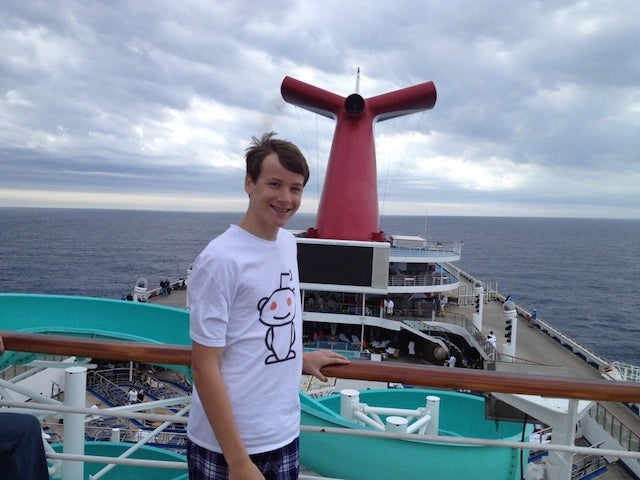 The Carnival cruise ship whose engine burned out and was left stranded at sea—lovingly nicknamed the "poop cruise" by major media outlets because of the lack of working toilets—finally docked late Thursday night.
Thankfully, a redditor was on board. As he sat in an Alabama port, he was happy to cut the hype and explain what happened to his fellow users in an Ask Me Anything session conducted on his phone. 
In short, he said, it was "just like camping. Except crowded and unhygienic." And it wasn't gross enough from keeping him from using a free voucher to go on another cruise next year.
Will you ever go on another cruise again? (teh_bacon_bandit)
Yes, definitely! It really isnt nearly as bad as they're talking about. I actually had a good time. 
So, ah, did you just do it off of the side of the boat, or what? (SharpHawkeye)
Sink.
what about poo? (missyo02)
Red bag.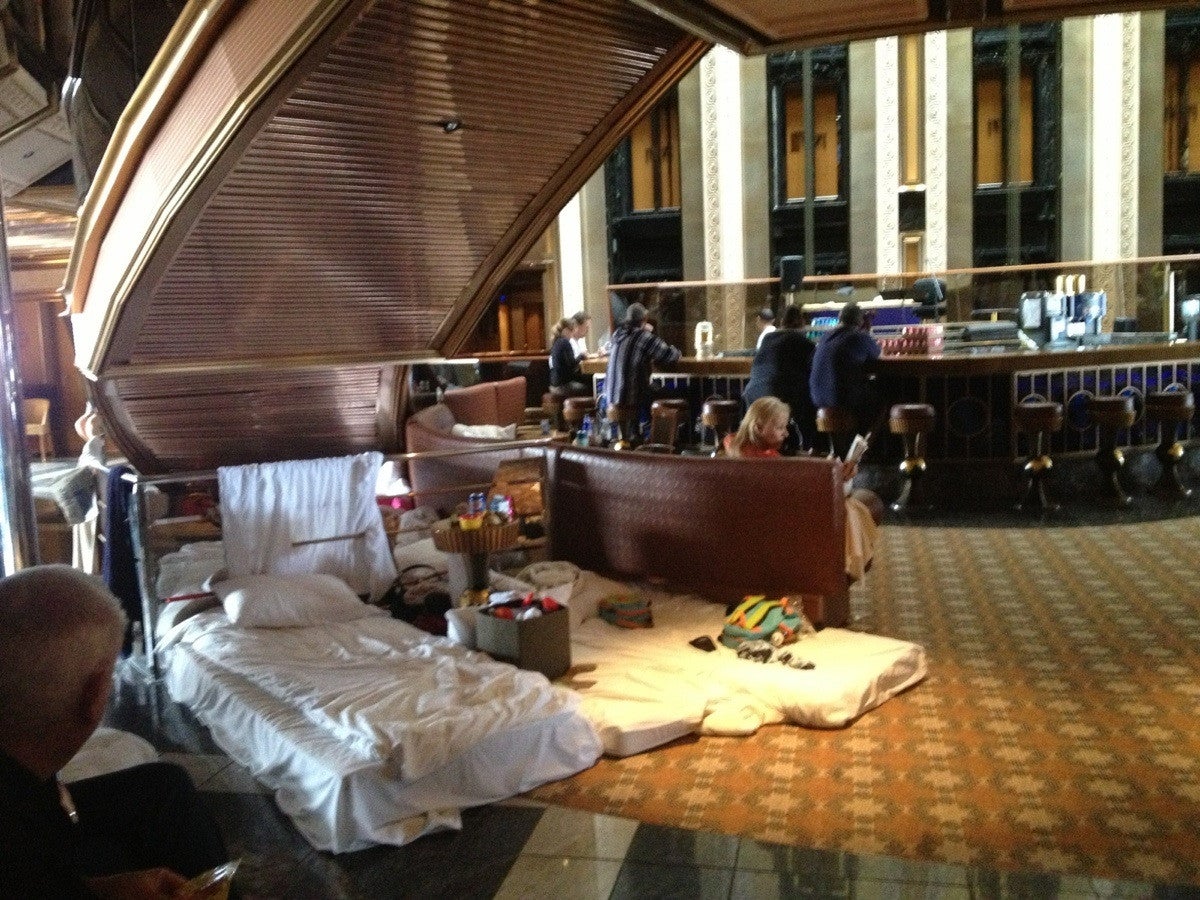 On CNN they would have one person crying about how awful everything else was, and then another person that sad it wasn't too bad (barnosaur)
That's how a lot of it was. I saw a few people crying but honestly, without the dirtiness, it wouldn't be too bad. It was like camping on a cruise ship.
So… how much is Carnival paying for you to do this AMA? (jonny_nutsack)
Haha no we're getting into a class action against them. I'm just making sure reddit is in "the know"
Is anyone taking advantage of the situation? If so, how? (deviant143)
Yes, a woman fake falling and crying in pain. Also people are suing. On a few of the working outlets a couple of laptops have been stolen, there and in the pitch black rooms.
Did they have to ration out the food? What was there and what was that like? (arevan)
Not really. They had a worse buffet, but a buffet none the less. Toward the end they started giving you the good themselves to ensure that we weren't stockpiling it. There was a lot of random sandwiches. Sometimes tomato and lettuce, zucchini mayo, onion lettuce, cheese bacon mayo, etc. they weren't particularly good, but you made do. There was also a lot of fruit and cheap deserts.
Are they really making you go to the bathroom in bags? How hard is it when you have to take a dump? (Mynameisinuse)
Yea they were handing out bags for us to poop in, I didn't since our toilet worked for the most part. But there were red bags all I've the hall way and whilst sleeping outside someone through there bag over and it got caught next to our area and smelled it up until we finally knocked it over the edge with a rope and pole.
Did anybody go crazy or totally loose their cool? (Membery)
A few people were crying, a few fights over food and the long lines, and a few fights over the outlet/ charging station situation.
I'm sure there was some kind of waiver that you had to sign before boarding – would that prevent you from filing any sort of lawsuit in the future? (Para_Para)
Yes, definitely! No waiver, but on the check that they will send us it's like signing a settlement. We are for sure holding off on cashing those in and we are going to participate in a class action. Nothing will stop since the unsanitary environment and how my mom is sick because of it.
Why are the people getting sick? I also read there were serious food shortages, is this true? (desertdreamer)
Thanks and yeah, people are getting sick because sewage everyone; urine on the floors, waste in bags, and undercooked food. Strong fecal and urine stench near the cabins and just a poor environment. The workers rushed a lot of the processes. My mom is actually sick. No food shortages, we've had 3 other carnival ships come by and one of the three again and they used a helicopter to drop a generator and just recently (today) we got a delivery of sterno. People are throwing food away so we have enough.
Are you taking one of the chartered flights back to Houston tomorrow? (305broooo)
Yeah, first a bus ride to New Orleans and stay in a hotel and fly out Tomorrow or Sarurday.
What was your initial reaction [to the ship's engine room catching fire]? Did you think you were sinking? (supermav27)
My initial reaction was just weariness. I slept on a bunk type bed that pulled out from the ceiling and smelled smoke and heard yelling. I was pretty pissed to wake up that damn early on my birthday but we then walked outside and Jen (cruise director) told us about the engine fire. I didn't know what to think but I wasn't very scared.
happy late birthday (ekaceerf)
Thanks, it's going to be hard to top next year.
Photo via CarnivalTriumphAMA/Imgur