The world knows no greater joy than the freakout of a full-on Internet foot fetishist.
Redditor Ferenginar has a wife who's been trying to sell some shoes. She posted the brown wedge-heeled open-toes on eBay in an effort to appeal to the highest bidder. 
She also quickly discovered that she was appealing to a freaky foot fetishist.
As the auction wound down and potential buyers scaled up their prices, Ferenginar's wife started to receive repeated messages from an individual seeking a bit more photographic documentation of the shoes. Even two days after the auction had closed, Mrs. Ferenginar was still receiving the same messages to her eBay inbox: 
"Would you be able to take a few pictures wearing the shoes? (both shoes) Different angles. Send picture to me in message."
Three times it happened, and zero times the wife responded. Then she went out of town, and Ferenginar decided to take matters into his own hands—er, feet. He shot the solicitor an email with what he assumed the individual wanted.
"Hi, sorry about the delay," he wrote. "My wife went out of town after making this listing, and you seem like you REALLY want a picture of some feet, so this is the best I can do."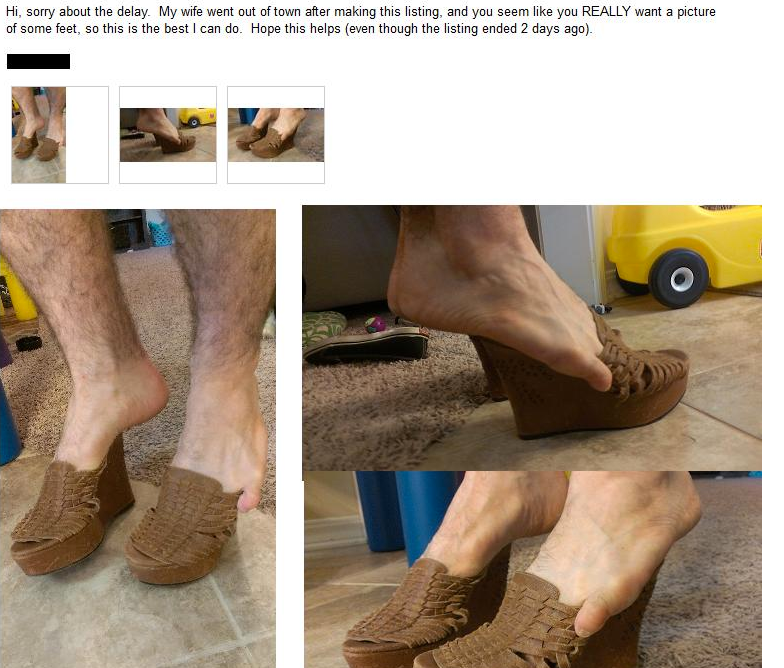 Ferenginar posted the correspondence on Reddit subreddit r/funny, where it's been going Internet gangbusters. Not surprisingly, as of 8:25am CT this morning, the solicitor hasn't responded. 
Photo via Tobias Lindman/Flickr