Etsy has Regretsy. Pinterest has WTF, Pinterest? With Kickstopper, the Daily Dot highlights the most bombastic and absurd projects seeking support through the popular crowdfunding platform Kickstarter.
Some serious testicular mass and fortitude is required when you set out to create anything that can be prefaced with the phrase "the world's first." Octavio Marc David Silva thinks he has what it takes, and then some.
Silva is the 24-year-old CEO of the Hot Child, a new clothing line that hopes to leave its mark on men's fashion with the Hot Child Junk, otherwise known as "the first anatomically designed jeans for a man's junk."
"We believe our innovative design will no longer force men to choose between comfort and style," Silva proclaims. "We will revolutionize the way men's jeans are made, forever."
Before he and his company can do that, Silva needs your help, which is why he's taken to Kickstarter.
The aforementioned "innovative design" is basically a built in codpiece. Most other jeans have a flat front, a design flaw that results in a man's babymaker settling to the left or the right of the zipper due to the lack of space. In contrast, the Hot Child Junk features a contoured pouch that provides comfort to a man's crotchular region.
"We don't want to limit ourselves to jeans, but jeans are just so kind of sexy and ours really enhance a man," Catherine Williams, company COO and Silva's mother, told Fashionista. 
"It allows them to have some freedom of movement, and the only way I can really compare it is to having a comfortable bra—it's the same for a man having a comfortable pair of jeans."
"This is not rocket science," the Kickstarter page states. Maybe not, but it's definitely science for your rocket.
The Hot Child Junk also has a buttoned fly instead of a zipper. This was inspired by an accident Silva had as a teenager, when his well-endowed member (according to his own mother, which, eww) got caught in the zipper.
"[It] was just like a screech from the bathroom," Williams recounts, "and I just knew!"
"It's one of those times in a mother's life where you just think, you know, I hoped this would never happen in my lifetime! And of course it did."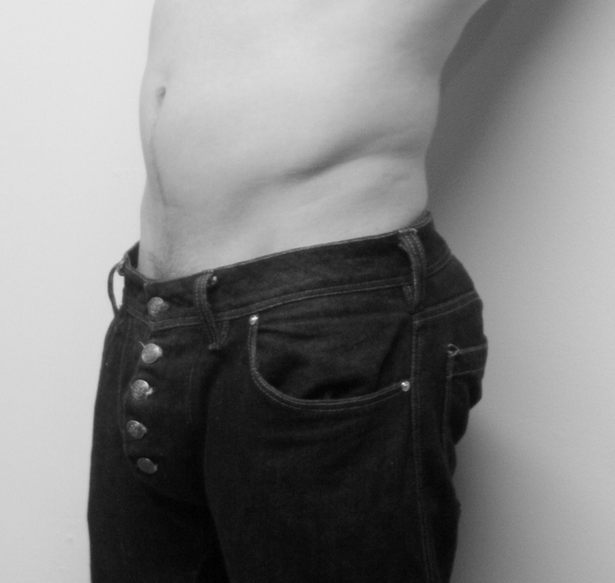 According to the Hot Child's website, there has been worldwide clamor for the Junk jeans, so much in fact that they already have close to $15,000 worth of pre-orders. 
That demand, however, has not manifested itself in the Kickstarter page. The Hot Child Junk has only raised $1,814 from 22 backers as of this writing, well off the $25,000 goal.
Still, despite the lack of financial support, Silva and his team remain firm in spreading their seminal jeans across the world.
"The team is completely invested," he recounts. "We have mortgaged our lives for these jeans. We believe in them that much!"
"When I say we've been eating pinto beans and rice for the cause, I'm not kidding!! The only reason people fails is because they give up. they fall three feet short of the goal line."
In other words, Silva's struggle is basically the real-life version of HBO's now defunct How to Make It in America, but, you know, with codpieces.
Kickstopper: The Hot Child Junk
Location: Fort Lauderdale, Fla.
Summary: To build and sell the world's first jeans that focus on providing comfort to a man's junk.
Goal: $25,000
Amount raised of press time: $1,814
Days left: 17
Best buy: For $1,000, you will receive "The Rooster," a limited edition pair of jeans. You'll also get three pairs of the Hot Child Junk jeans, and a picture four baby trees planted in your honor.
Photo via Octavio Marc David Silva/Kickstarter