Hey everyone—especially horse lovers and Swedes—don't worry. Horses really do exist. And they're definitely not a fruit. We've got confirmation on that one from the Swedish government.
There's been downright horsey bedlam over there in Sweden in recent weeks. A Facebook page, "Hästar finns inte"—or, roughly translated, "horses don't exist"—is challenging the country's assumptions about biology, nomenclature, and obviously, the nature of equines themselves.
"There are no such thing as horses, a fact that is scientifically proven," reads the founding mission of the group, helpfully translated by Jack Werner, a reporter at Swedish news site Nyheter24.
"We also support the science that claims horses to be a fruit. Horses [are] a fruit that does not exist."
This direct challenge to observable reality has taken Sweden by storm. The page has assembled an army of nearly 100,000 horse-denying followers in just two months.
What's the point? The whole spectacle reminds us of the Church of the Flying Spaghetti Monster, the nonsense religion that mocks irrationality in mainstream faiths.
It also could serve as biting commentary on anti-science ideologues: The science of horses not existing is about as formidable as the science of global warming not existing.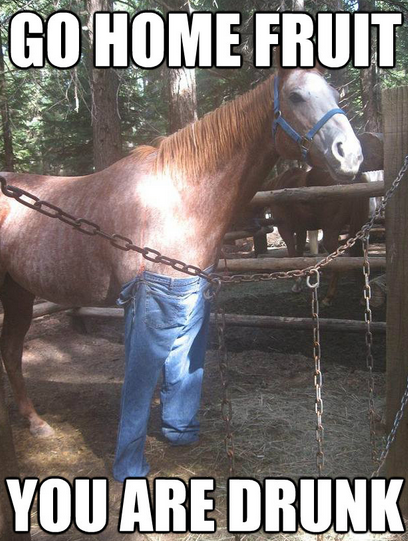 Photo via Hästar finns inte/Facebook
Then again, maybe these guys just don't actually believe in horses. I mean, horses are pretty weird, when you really think about them.
This is what the Facebook page's founder told Werner:
"A lot of people in the world still believes in horses, but luckily our society hasn't collapsed thus far. The [purpose] of this page is to get people to really think about it, and question what you've heard. We want to get the truth out."
In recent weeks, detractors have come out of the woodwork, mostly in the form of counter-Facebook pages. Horses don't exist don't exist is one. Horses do exist! is another.
That's the official stance of the Swedish government, too. News site ED, reporting on the phenomenon, reached out for comment from the press office of Sweden's Ministry of Rural of Rural affairs. This is what they had to say:
"The Minister of Rural Affairs, Mr. Eskil Erlandsson, wants it to be known that there is no reason to be worried. Horses exist. They even exist in a lot of different races."
There you have it. Not only are horses real, there are very many varieties of them, none of which are fruit, and especially nonexistent fruit. So go ahead and kill those plans for that horse fruit salad you were looking forward to.
Photo by tasweertaker/Flickr