A man in Massachusetts wants to help out the hobos by sending them your rival college's jackets in an effort to keep warm. And he swears it's not as bad as it sounds.
Jin Pan, a Massachusetts Institute of Technology student researching within the school's Synthetic Biology Group, is the man behind HoboJacket, "a competitive platform where you can donate your rival college's jackets and shirts to the unfortunate because it's terribly unfortunate that people actually went to that other college."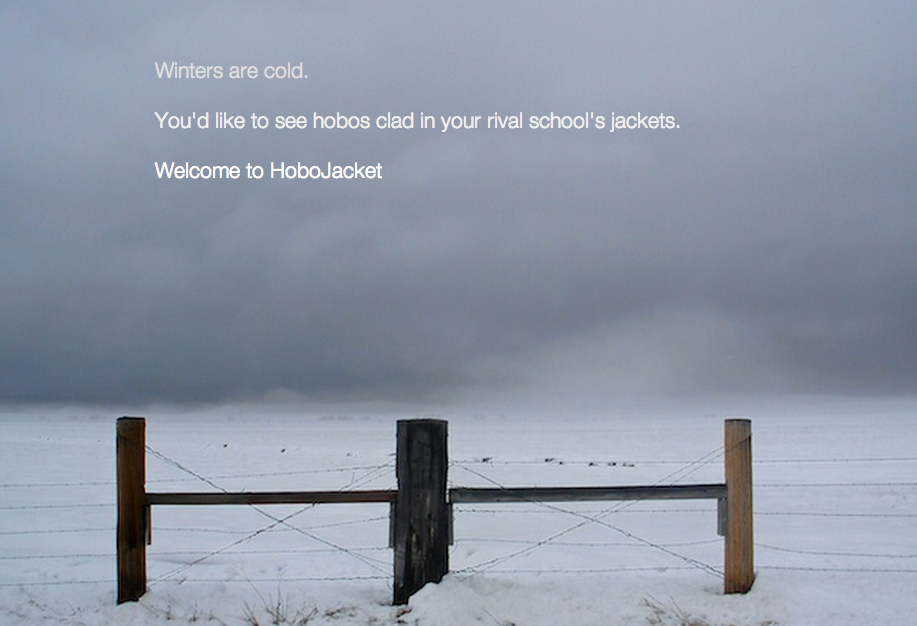 The whole operation is brilliantly simple. You log on to the site, pick the school you went to (or proceed anonymously), scroll around until you find your rival's school, and then fill in a dollar amount that you'd like to donate.
Pan then takes that donation and repurposes it towards each school's respective online shop, where he picks up jackets at an assumed cost of $10 a piece.
The site, which has already facilitated the donation of more than 660 jackets to the homeless and needy, has hailed itself as "the politically incorrect but right thing to do" and drawn the ire of more than a few critics—enough so that Pan was driven to draft his own HoboJacket manifesto.
"This idea originated as a prank," Pan wrote Monday.
"I would joke with friends that if I ever got rich, I would donate tons of Caltech jackets to the unfortunate because it'll show the true value of a Caltech degree … On a particular telling of this joke, I began thinking, what if I didn't have to put my own money into these charitable donations? what if we could just crowd source the whole thing?"
Next thing he knew, he was showing up late to a midterm test because he'd lost track of time drawing database schemes for what would eventually become HoboJacket.
"I'm very new to web development, so a ton of my initial schema designs were horrible, horrible, horrible," he wrote.
Pan took the site live and started posting it "onto online communities where I didn't know 99.9 percent of the folks on there." In doing so, he found that the responses were much more serious than he'd imagine they'd be. Most notably, he saw that people had accused him of objectifying the homeless for his own entertainment.
"Which I am guilty as charged," he admitted. "Possibly because my Asian parents would incessently (sic) threaten me in my childhood that I would become a hobo, especially each time I got a B+ in elementary school. Possibly because I'm a horrible person and, to quote /r/circlejerk, 'literally hitler'. Possibly because we don't have free choice and our consciousnesses are just artifacts arising from a world of strings dancing to the beat of physics."
Possibly, but there's another way to look at it: The man's doing work to warm the homeless.
Pan said that he's not sure how long the site will remain online and in action.
"Perhaps I'll keep it up for shits and giggles but take away the PayPal link," he wrote. "Perhaps we'll say in the fine print that the specified donations matter only for the leaderboard and end up donating generic jackets. Essentially, I have no idea what the long term plan is because I didn't envision people actually contributing on this scale."
Politically incorrect as it may be, let's at least hope that Pan decides to keep HoboJacket open through the cold months of winter.
Photo via Nick Kleckner/Twitter