Dealing with harassment and hatred is all too common for the everyday gamer. One moment you're enjoying your favorite MMO and the next you're being bullied.
Maybe you're an LGBT gamer, or you're a woman who commented in a forum that maybe it'd be nice to have more female characters to play. Then suddenly you're faced with mean and bigoted comments from fellow players. The amount of bile in game culture is unfortunately almost equal to the amount of support found in the video game community. It has inspired numerous calls for change, especially at gaming conferences where panelists attempt to address the issue.
Greg Tito, editor-in-chief of The Escapist, moderated a panel at this year's PAX East titled "What You Can Do to End Bile and Hatred in Games Culture." To Tito, this year has especially hard, with story after story hurting the image of gamer culture.
"Back when PAX was a new experience, it was this kind of get together where we could be ourselves and we didn't have to feel embarrassed. We found people like us and there was this great togetherness and I feel over the last year that's kind of eroded away, even at PAX itself…" he said.
Tito and others have written about bullying in gaming and found it's an issue some just don't want to hear about. Commenters remark on their stories that they'd rather just read about games.
"On one hand I just want to talk about games, but on the other hand [I have a] responsibility to also talk about the issues and what we face in the community…we need leaders in the community to be a positive force instead of dragging everyone down," said Andrea Rene, host of The Escapist's "Escapist News Now."
Rene said the gaming community online is a volatile place for a woman and she feels successful when her audience talks about the story she wrote instead of the fact she's a woman reporting on video games. When harassment does occur, journalists and developers that address it are often told they need to toughen up and should expect such hatred because everyone gets it online. But is that really something everyone should just expect from the Internet?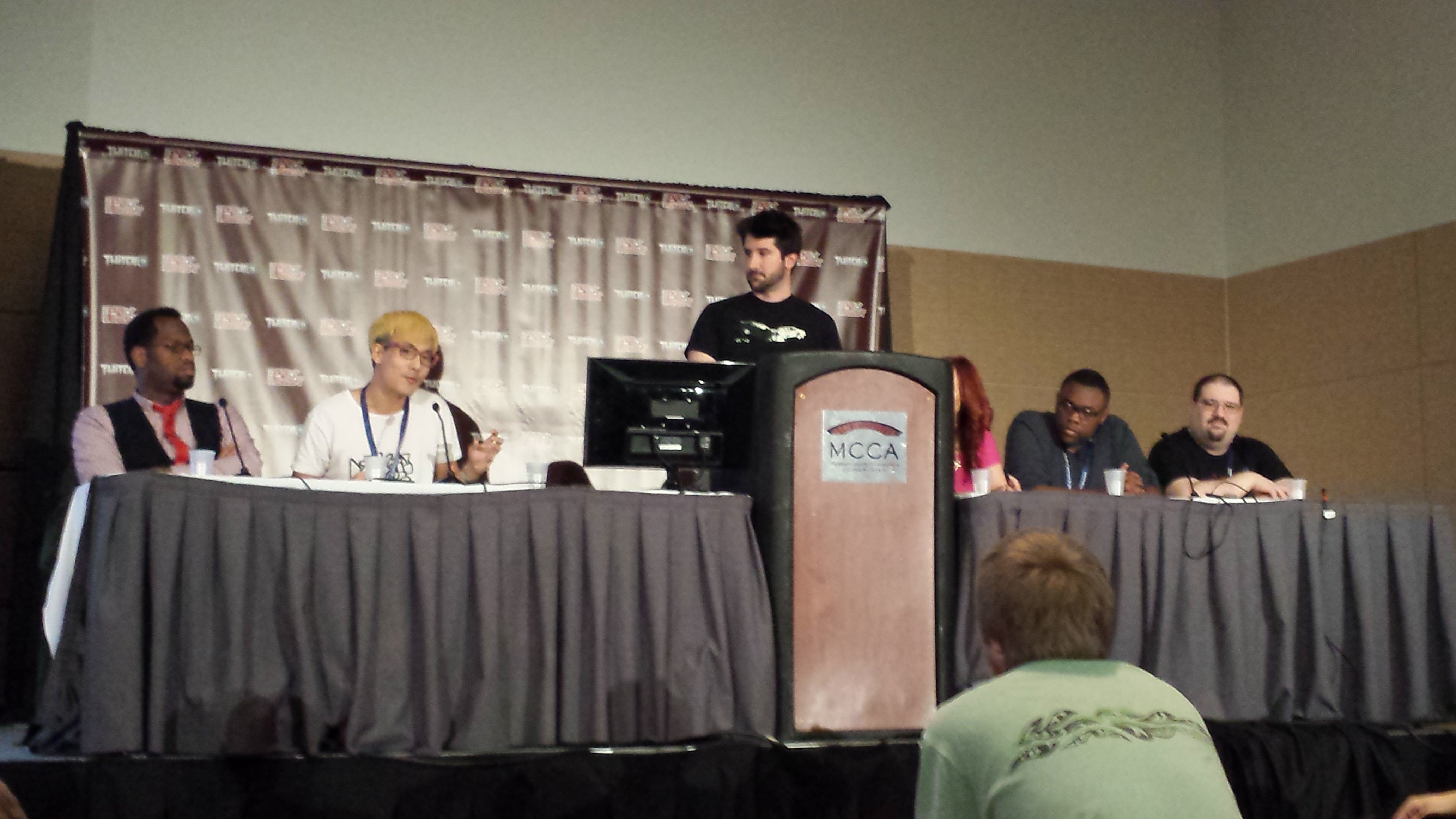 Photo by Lisa Granshaw
Tito thinks engaging with these commenters is important and that just ignoring them doesn't solve anything. Giant Bomb news editor Patrick Klepek, who spoke on another panel on the topic called "Why Internet jerks aren't going to win, and you can help," agreed.
"I don't really subscribe to the idea of ignoring the trolls and they'll go away, because—pro tip—they don't…" he said. "We need to talk about this because we need to make sure people know what's happening."
Klepek points out harassment isn't exclusive to game culture. It's more of an Internet problem. He finds that instead of a passionate debate of opinions in his comments sections, there will be a small but vocal group that shouts and bullies. He has experienced this not just in his professional work but also when he decided to share his personal life on Twitter. When he shared that his father had passed away he was not prepared for the number of people who tried to hurt him, saying things like they were glad it happened because it meant he wouldn't be at his job for a few weeks. As painful as these comments were to read, Klepek also discovered a Giant Bomb community thread full of well-wishes from people who knew him only from his work online, once again showing the duality in the community. Klepek saved that thread, saying it's important to remind yourself of the good in the world and the surprising kindness of strangers, no matter how much bile some might spew.
He disagrees with the idea that removing anonymity in comment sections will solve the problem, pointing to how some people don't feel responsible for harassing others online even with their names attached. His conversation with a troll who told the Flappy Bird creator to kill himself after he announced the app would be removed is a prime example. The person did not feel responsible for his words because he was online. It's hard, it seems, for some to realize there's a real person on the other side of the computer. By responding, Klepek thinks we can make the Internet a safer place for gaming.
"Start by speaking up. I don't mean you should shout down others, but speak up because I think most of you are like a lot of us—the silent majority of Internet users, the vast majority who are nice and reasonable. You just don't say anything…" he said.
Fellow panelist and game designer Zoe Quinn, who herself was harassed while trying to get her game Depression Quest on Steam, agreed that speaking up is the answer and that the advice "don't feed the trolls" is completely useless.
Photo by Lisa Granshaw
"Even calling it trolling is disingenuous, let's call it was it is. It's harassment…" she said.
According to Shack News editor-in-chief Andrew Yoon, responding makes commenters can help them realize there are real people on the Internet.
"Remember every comment you make speaks to your character, every engagement you make illuminates an aspect of who you are and for some people that's very ephemeral and they write a thing and forget it, but it's not forgotten. Somebody somewhere will read that and feel a certain kind of way," Kotaku writer Evan Narcisse said.
Andre Meadows, host of YouTube channel Black Nerd Comedy, believes in creating a community like his audience that will work together to stop people making inappropriate comments and show them it's not acceptable behavior.
"Suggesting that we stay silent in the face of all this and we don't engage or we don't talk about it only perpetuates it further. And it makes it that much harder to make people understand the consequences of their actions…" Quinn said. "Instead of not feeding the trolls, let's feed ourselves and our communities and make this a better place for everyone."
Photo via Sergey Galyonkin/Flickr (CC BY SA 2.0)