Alrizzle, Internet frizzles. Want to know how to search Google like the Snoop D-O-double-gizzle? I am telling you, it is the absolute shiznit.
The method for this madness comes via search-engine copycat Gizoogle.net, a project originally created in 2005 by computer whiz and Snoop Dogg-addict John Beatty. The site ran rather haphazardly until 2011 when its domain name was acquired as a redirect URL for "one lame-ass dating company."
Now it's back, apparently, and without Beatty's help. The masked men who restored the site wrote on its About page that they've spent "countless hours" adding more than 4,000 translations (from "My name is Chase" to "My fuckin name be Chase," for example) and "improving the algorithm to make sure translated text flows better than before."
The final product? Off the hizzle, for rizzle, my dizzle.
Using Gizoogle is easy. Just type in any search query that you'd usually throw into Google. I tried "Knicks" and got redirected to this mess.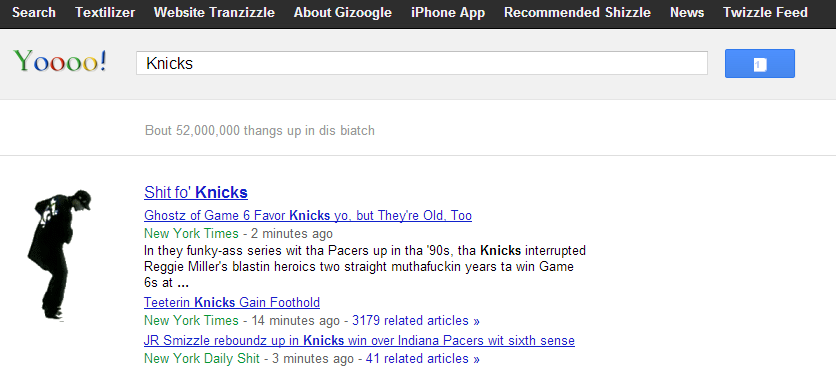 The image of Snoop crip-walking on the left is actually an animated GIF.
We'd love to see this same sort of thing happen with Rick Ross, but unfortunately there are only so many ways that you can translate normal words into Ross's array of "Awww," "Awwrrrr," and "Uhhhh."
Photo by NRK P3/Flickr