More than 100 million people have used YouTube and Dailymotion to watch video footage of the Russian meteor crashing down to Earth, but none of those YouTube views have come from Germany.
The reason? Relations between YouTube and GEMA, the European country's music royalties collection agency, have grown so strained that the video-sharing site was forced to block German access to nearly every personally recorded meteor video it's hosted on the site because the videos include music being played on car radios that's picked up by the videographers' dashboard cameras.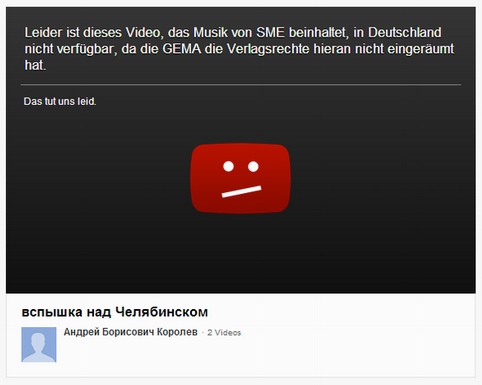 GEMA and YouTube have waged a collective bargaining war since the months before April 2012, when a German court ruled that YouTube is responsible for the content its users upload. In effect, the ruling protected GEMA, as well as the individuals for which it collects, from the unlicensed airing of the material it owns.
The ruling resulted in the German court requesting that YouTube install filters to identify when users post music clips whose rights are held by GEMA, but YouTube naturally balked, saying that site users upload more than 72 hours of footage every minute and that its engineers could not be reasonably expected to monitor everything that appears.
In January, the two sides engaged in a pretty messy breakup, one that left German YouTube users in the dark and unable to access a massive amount of music videos. Now, according to a recent study by data journalists at OpenDataCity, more than 60 percent of the 1,000 most popular YouTube videos are not available to German citizens, simply because Google assumes the music rights might be owned by GEMA.
On Saturday, a Google spokesperson told GEMA that "YouTube has no insight [as to] what repertoire represents the GEMA," a press release explained through rough translation. "Due to the legal and financial risks that result from these processes in the context of GEMA's [published royalty fee structure], music videos are blocked in Germany."
That applies equally to videos that include music, such as Harlem Shakes or clips of meteors searing the sky.
Photo via Kezzabelle5/Twitter