"I have recently purchased a replica of the Iron Throne as seen in the television show, and need a partner to play out an elaborate fantasy."
Without reading any further, this Craigslist W4M ad is already pretty awesome. Titled "Seeking Robb Stark Look-alike," the New Orleans posting was written by a Game of Thrones fan with a very specific hookup scenario in mind.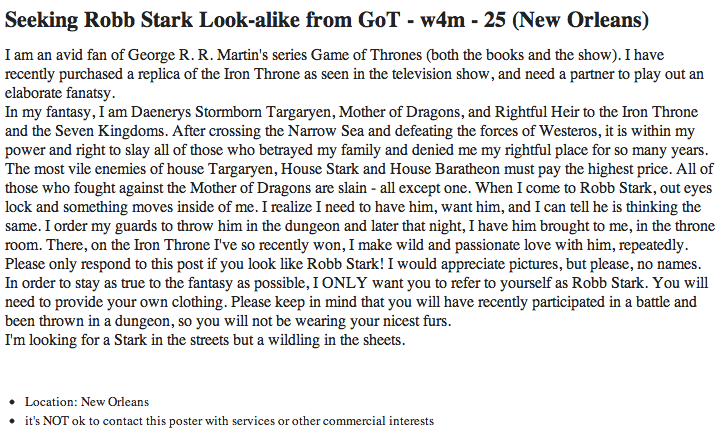 In character as "Mother of Dragons" Daenerys Targaryen, she's looking for someone to play the role of Northern heartthrob Robb Stark—but not without some George R.R. Martin–style backstory detail first: 
After crossing the Narrow Sea and defeating the forces of Westeros, it is within my power and right to slay all of those who betrayed my family and denied me my rightful place for so many years. … All of those who fought against the Mother of Dragons are slain—all except one. When I come to Robb Stark, our eyes lock and something moves inside of me. I realize I need to have him, want him, and I can tell he is thinking the same. I order my guards to throw him in the dungeon and later that night, I have him brought to me, in the throne room. There, on the Iron Throne I've so recently won, I make wild and passionate love with him, repeatedly.
So far, so good. Who wouldn't want to be chained up in the dungeons of the beautiful Daenerys Targaryen? But there's more. You need to be dedicated to your role. In fact, "I would appreciate pictures, but please, no names. In order to stay as true to the fantasy as possible, I ONLY want you to refer to yourself as Robb Stark."
If you feel like you're up to the challenge, you need to look the part. Not only does your photo have to satisfy the Craigslist poster's lookalike standards, but you have dress up as well. But don't worry, you won't need to break the bank for a new suit of armour or anything. As the ad points out:
"Please keep in mind that you will have recently participated in a battle and been thrown in a dungeon, so you will not be wearing your nicest furs."
She doesn't specify if she also wants realistically medieval standards of personal and oral hygiene, but that can probably be left to the imagination. 
Finally, with regards to technique, Daenerys signs off with one final specification. "I'm looking for a Stark in the streets but a wildling in the sheets." 
Image via Flickr/ewan and donabel