Here at the Daily Dot, we swap GIF images with each other every morning. Now we're looping you in. In the Morning GIF, we feature a popular—or just plain cool—GIF we found on Reddit, Canvas, or elsewhere on the Internet.
It's flashback time! Come back to the future with what is predicted to be one of this year's biggest gift items: the venerable Furby.
The Furby, the must-have toy of 1999 (when it sold 14 million units), was a small, owl-shaped robot covered with implausible-colored fur and fluent in a kind of garbled English that made Yoda sound like Richard Burton. They were eventually supposed to "learn" proper English through dialoguing with the child who owned them, although all I ever said to mine was, "Shut up, you're creeping me out!"
With its stubby pointed beak and its googly eyes opening and shutting at random (never mind the horrible flapping of its ears), the Furby creeped out a generation of children, and if you're wondering why millennials turned out so weird, well, the psychic residue from this must be a part of it somehow.
Furby mercifully ceased production in 2007, but in an act of recrudescence which sends a shiver down the spines of certain elders, it has returned. Rugose, chittering robots with glaring eyes and hearts of steel: Having failed with us, they have come back for our children.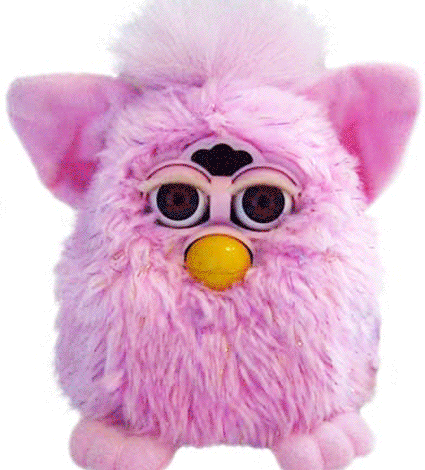 On the stone/washed Tumblr, this horrifying golem in GIF form has gathered 13,883 terror-struck notes.
May Santa protect us.