Fox broke fans' hearts when it canceled Joss Whedon's beloved "space western" series Firefly back in 2002. More than a decade later, the network has cast itself as the bad guy again, going after Etsy shops that sell orange and yellow knitted hats like the one worn by Firefly character Jayne Cobb.
It's not just Fox's longstanding role as the accidental villain in the narrative of a brokenhearted Whedon fan that makes this decision particularly upsetting to the Firefly fans—sometimes known as Browncoats—who have been up in arms since Firefly Cargo Bay broke the news of the crackdowns. Nor is it the fact that according to The Mary Sue, Etsy sellers who've been making the hats for years are suddenly being banned by the site.
Nor is it the fact that the hats themselves are so generic and easy to make that it's tough to tell whether a trademark on the design would hold up. The knitting social network Ravelry has dozens of free patterns of the basic orange-and-yellow cap with tassles, for everything from iPad socks to lip balm holders to pet hats.
Photo via Geek Exchange
Nor is it even the fact that the caps are an open gesture of love from the Browncoat community to the show itself, and a way to connect fans to each other. As many have pointed out, the inviting orange tassles are the easiest way to spot other Firefly fans at conventions and other geek gatherings, markedly standing out in a crowd. And while Fox may have recently granted geek merchandiser Ripple Junction a license to produce the hats and distribute them through ThinkGeek, many fans feel the community aspect is something that can't be bottled and sold.
As Blastr put it:
Doesn't it mean anything that the hats are often auctioned off at charity events? After 10 years of nothing, isn't it unfair for Fox to suddenly force lifelong fans to cease production of something they love?
All of these things have fans angry. But perhaps the ultimate injustice of the situation, according to many of the fans who have spoken out, lies in the hat's meaning within the context of Firefly.
The short-lived cult favorite featured a ragtag group of people who were far from home and family, fighting for their freedom and creating a new family together. Jayne's hat, which had been knitted for him by his mother as a child, represented not only the ties that bound the Firefly crew together, but the makeshift, off-the-grid lifestyle the space travelers utilized in order to maintain their independence under political and corporate pressures.
"Isn't the whole point of the Jayne hat that it be homemade?" asked Blastr.
"The hat always carried with it the handmade, lived-in ethos that Joss Whedon wanted for the show itself," echoed Furiousnads. "Something about ThinkGeek selling them just never felt right."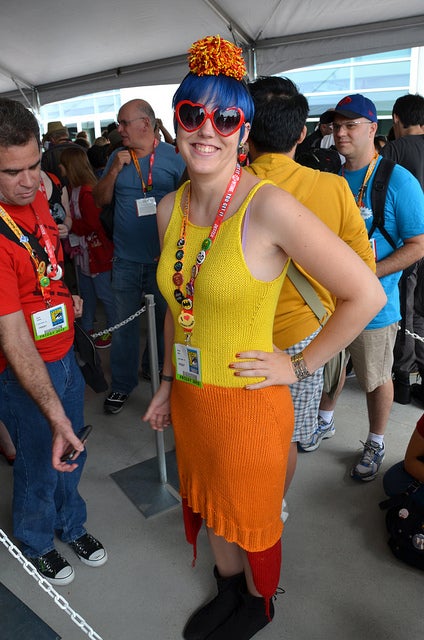 Photo via dalboz17/Flickr
ThinkGeek distanced itself from the argument yesterday in a press release to "our dear Browncoats."
We just wanted you to know that ThinkGeek has nothing to do with the C&D notices… The way we see it, if people want to make their own, shiny. For those out there who can't knit to save their gorram lives, we can help.
Firefly Cargo Bay has since deleted its posts about the issue; but a new Facebook Group, Can't Stop the Jayne Hat, has already sprung up in its place.
UPDATE: ThinkGeek responded to the takedown notices with this message in support of Firefly fans:
Browncoats, we hear your concerns about the cease and desist on Etsy Jayne Hat sellers!

We weren't involved in that process, but we have reached out to FOX and we've definitely heard what you've had to say. (We know you guys have Vera to back you up.)

As a result, we've decided to donate the profits from all Jayne Hat sales on our site to Can't Stop the Serenity, a Browncoat charity dear to ThinkGeek's heart that raises funds and awareness in support of Equality Now. We'll continue making that donation until we run out of stock of Jayne Hats.

We hope the Hero of Canton himself would approve.
Photo via rwillia532/Flickr