This post includes spoilers for The Falcon and the Winter Soldier episode 5.
The Falcon and the Winter Soldier's showrunner already dropped hints that episode 5 would include a surprise Marvel cameo, but no one could have guessed who it was. Arriving with zero foreshadowing but plenty of panache, beloved comedy actress Julia Louis-Dreyfus made her MCU debut as… Contessa Valentina Allegra de la Fontaine? Well, OK!
Contessa Valentina—or Val, as she calls herself here—is a relatively obscure character, introduced as a seductive spy in the classic 1960s Nick Fury comics. In the show, we meet her as a mysterious figure who offers to help John Walker after he's been fired as Captain America. She's a wealthy, powerful villain who undoubtedly wants to use Walker for her own ends. And she only appears in one scene, suggesting she'll be a major player in the final episode next week.
Val is one of several Marvel Comics characters known as Madame Hydra, mostly appearing in espionage stories. She's a femme fatale from the era of vintage James Bond movies, morally ambiguous and independently wealthy. This page from Strange Tales #168 (a 1968 comic featuring Jim Steranko's Nick Fury, Agent of S.H.I.E.L.D. serial) encapsulates the vibe they were going for. It was a real Swinging Sixties comic.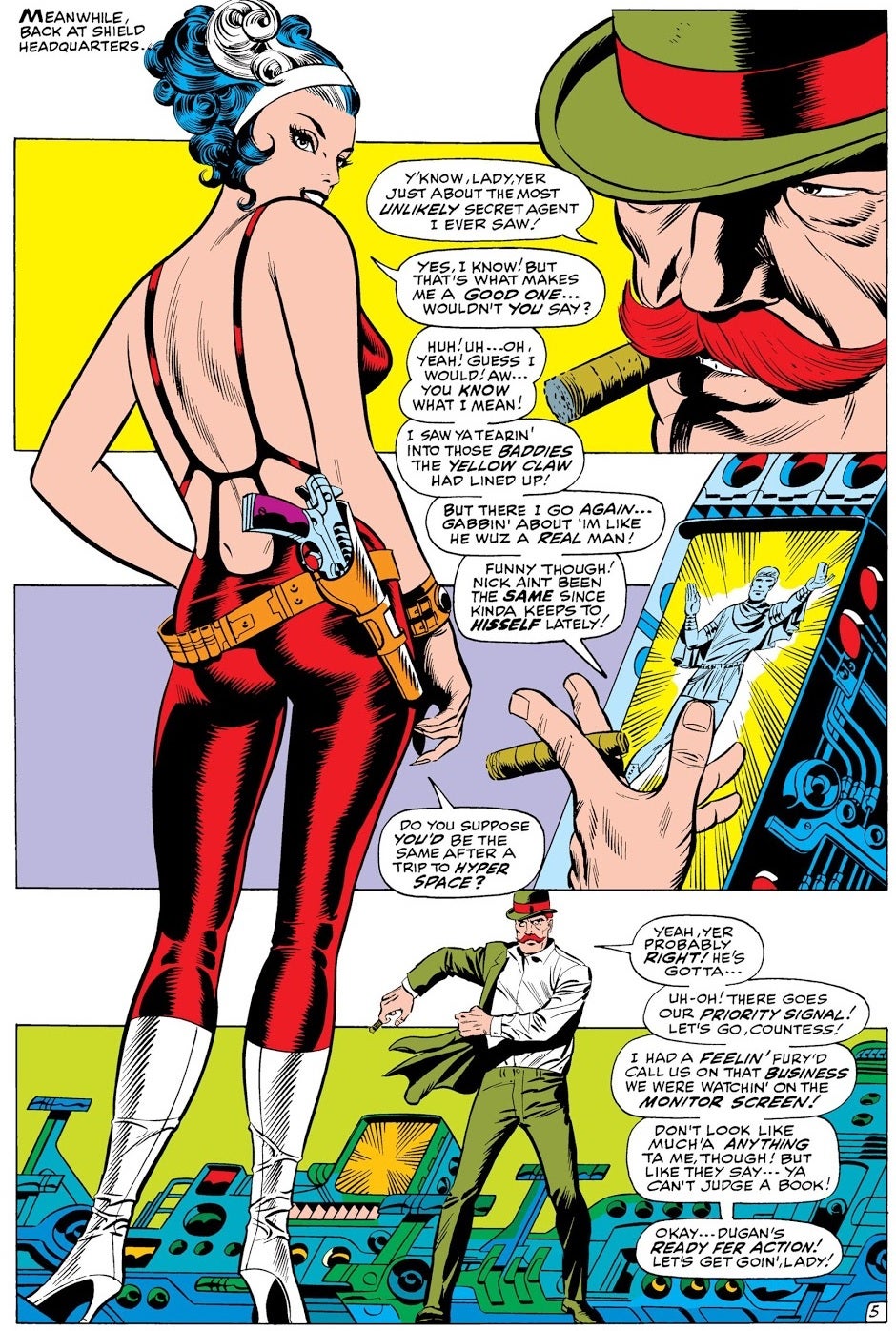 The MCU revamps Contessa Valentina as an older character, a leader rather than a field agent or solo adventurer. (Louis-Dreyfus is 60 while Samuel L. Jackson is 72, so the characters are close to being contemporaries.) Val may even be the Power Broker mentioned during the Madripoor sequence in episode 3. And if her introduction seemed kind of abrupt this week, there's a reason for that: She was meant to appear in the Black Widow movie first.
Black Widow was originally scheduled to come out before The Falcon and the Winter Soldier, and there's been a lot of speculation about how the show might have changed as a result. Did Marvel have to reshoot or delete any scenes to avoid spoiling the film? Val's espionage background makes her an obvious choice for Black Widow, but her introductory scene might have packed more of a punch in The Falcon and the Winter Soldier if we already knew her from the movies.
According to Vanity Fair, Contessa Valentina may end up with a recurring role in the MCU. Considering Louis-Dreyfus' status, that definitely makes sense. Is Val recruiting John Walker for her own villainous super-team? Will she appear in the Nick Fury-centric Disney+ series Secret Invasion? We'll hopefully know more after the Falcon and the Winter Soldier finale next week.
---
More essential culture reads
---