For people who want to look at weird illicit photos of women but think creepshots are a step too far, you're in luck: There's always Women Who Eat on Tubes.
The Facebook group encourages people to post photos of women eating on London underground trains, usually accompanied by mocking comments. It's already inspired so much backlash in the U.K. that its creator, a filmmaker named Tony Burke, appeared on BBC radio to defend the idea behind the group, describing it as "art" and "observational study."
"I think what is interesting about Women Who Eat On Tubes is that it's thrown up a number of little tributaries of discussion," he said. Most of those "tributaries" consist of people accusing the Facebook group of being laughably misogynist, since its entire purpose is to make fun of women for eating in public.
Even if you give Burke the greatest possible benefit of the doubt, most of the "art" on his Facebook group is immediately met with comments like, "Feeding time at the zoo," which kind of negates the artistic merit Burke claims can stem from "catching people unawares."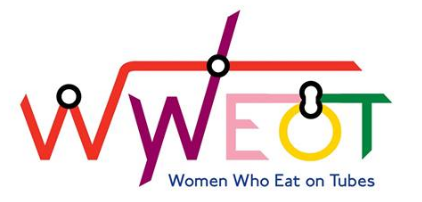 A journalist named Sophie Wilkinson wrote about the unpleasant discovery that she'd been featured on the page, saying, "I felt hurt and humiliated – especially by the comments mentioning my 'gaping orifice' or sarcastically pondering, 'I'd like to know the name of her finishing school.' I was the butt of a joke without my knowledge, in front of thousands of strangers."
After briefly being removed from Facebook, the Women Who Eat on Tubes page is now back, as a closed group with over 23,000 members. Facebook's terms and conditions allow people to request for photos to be removed if posted against their will, but obviously you'd first have to request to join the group. There's also a Tumblr blog that cross-posts photos with captions like "Three little pigs," and a copycat Facebook group that posts censored photos that link back to the original.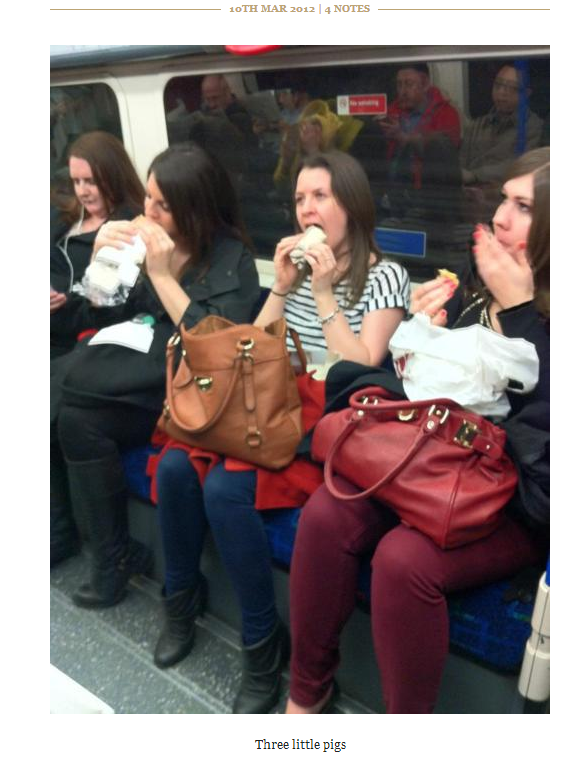 WWEOT has already given rise to several protest groups, including Men Who Post on WWEOT (which publicly shames men for, well… publicly shaming women) and a London underground lunch party scheduled for Monday afternoon.
This whole situation feels like a watered-down version of South Korea's "Ladygate." That meme began with people posting photos and videos of women fighting or otherwise behaving inappropriately in public, but degenerated into people shaming women for doing something as innocuous as eating or drinking on the subway.
"Women are embraced and cherished," reads the new description on the WWEOT page. "We celebrate and encourage women eating food on tubes." Which begs the question, why is it a closed group? And if you cherish women so much, why are the photos being posted without their knowledge or consent?
Photo via Facebook