Every day, the Daily Dot finds something that people on Facebook are sharing and, in turn, shares it with you—with a little explanation. Here's today's share.
What could be more inspirational than a mayonnaise jar and a couple cups of coffee?
More than 30,000 Facebook users have recently shared a tale of a wise professor who shows you that the most important thing in your life should come first, and the little things should fit around it. Or maybe he's supposed to show that even when your life seems full, it's always possible to cram in a little more junk.
It's a straightforward modern fable: the professor presents a mayonnaise jar to his class. He fills it with golf balls, which he says represent the most important things in life. When the jar can't take any more golf balls, he notes that it can still take more pebbles. When it can't take more pebbles, it can still take sand. When it can't take sand, it can still take a cup of coffee.
The sand represents the most minor obligations in life, he says. The coffee indicates that even when it seems like your life is full, you can still find time for coffee with friends.
Plenty of users find it downright inspirational.
"Love that … this is how i will now explain LIFE to the ones I love," wrote Kathleen Guiol.
"I first saw this a few years ago," wrote Diane Blum.
"The title was 'The Mayonnaise Jar and two glasses of wine.' Just goes to show – it doesn't matter 'what you are drinking' as long as you understand the 'message.' Life is as good as you make it.
Though the tale seems to be as old as the Internet itself—a Google search indicates it's been on message boards since 1995, at least—most iterations that put an author on the story attribute it to writer Mary Lynn Plaisance.
The image comes from the 2009 Coen brothers movie A Serious Man. Its protagonist, Larry Gopnik, teaches physics.
The story's speaker is purportedly a philosophy professor. It bears noting, however, that most college philosophy departments take a slightly more academic approach to the discipline.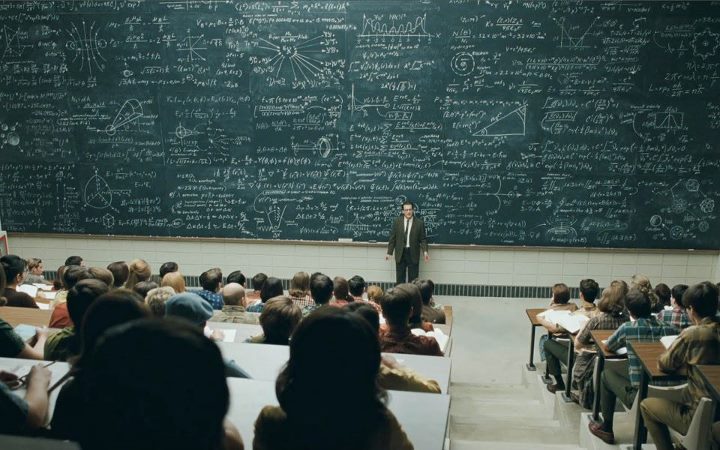 Photo via Facebook